The holidays are just around the corner, so it's time to start getting in the holiday spirit. Decorating your home and office for the holidays can be one of the most fun and festive ways to jumpstart the season and get that holiday cheer going. Whether you're decorating style is modern, traditional, or somewhere in-between, here are some of the most exciting and inspiring 2018 holiday decorating trends to look for as you plan your holidays:

Mother Nature Meets Father Christmas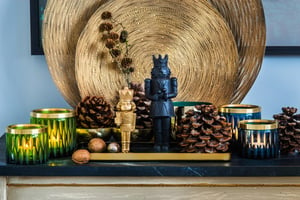 According to The Design Tourist, we can expect the 2018-2019 holiday season to "couple Santa Claus with Mother Nature as natural materials and earthy motifs ground the tinsel, faux snow and bling, bling ornaments." With this holiday decorating trend, color themes will go beyond the traditional red and green, incorporating more natural earth tones, with blue and green as dominating colors. Textural elements in this trend include grainy and bark-like materials, while patterns feature inspirations from nature including fir trees, deer, twigs, snowflakes, stars and feathers. "Envision design elements such as wooden trays, candle holders, lanterns, twigs and coniferous wreaths, and hanging decorations in the shape of animals and fir cones," says Karen LeBlanc of The Design Tourist.
Hanukkah Happiness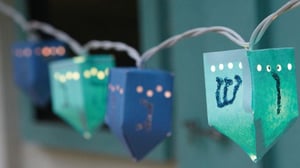 There are countless ways to bring the Hanukkah holiday to life in your home. Looking for some of the latest modern décor trends and tips on how to integrate them into your holiday home decorating plan? Check out HGTV's Haute Hanukkah Decorating Ideas to help you bring modern style and sophistication to your Hanukkah table with a mix of metallics and layered blues. Of course, if you lean more toward the traditional style of décor this time of year, there are still plenty of ways to "spruce up" those classic decorating themes. Check out Southern Living's guide to 14 Festive Hanukkah Décor Ideas for inspiration.
Minimalist Motif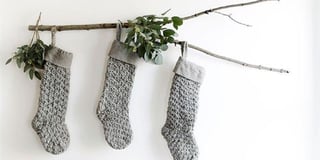 While minimal is rarely a word we associate with the holidays here in the U.S., the minimalist movement is growing across the country—and has inspired some great design movements along with it. If you're looking to make your home more festive without going "over the top" on the decorations or budget, take a minimalist approach this season. When done right, this approach will save you money and time without looking "cheap." In fact, your friends and family will probably be impressed with this modern trend exhibited in your home! Check out this Elle Décor article, 15 Minimalist Christmas Decoration Ideas to Make Your Holiday More Chic, for inspiration.
Classic Charm
There's something simply charming about classic holiday décor. If your style leans more toward the traditional this time of year, there are still some fun new trends that can help you create a tasteful and traditional atmosphere in your home this holiday season. Check out HGTV's article, 14 Easy Ways to Add Classic Christmas Charm to Your Home, for some excellent tips for decking your halls—and almost every room in the house—in a timeless way with seasonal flair that never goes out of style.