Long before potential tenants ask for a tour, in this market you need to learn about outside amenities and upgraded features you can install in units to enhance curb appeal. When potential tenants visit a possible new home, they are going to inspect a property not only to see if they want to live there but also how well you keep up your property. At a minimum this is what good tenants do, so be ready for your property to stand out from the rest to attract the ideal resident. Tenants who don't care about the property, what it looks like, or how it's cared for are less likely to appreciate what you offer, and may not treat it with the level of respect you'd like.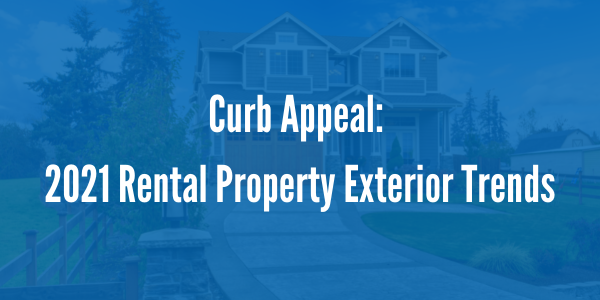 The Seattle current rental market is tough. With all the new high rises and many people buying homes, you are competing to keep good tenants that you don't want to lose. However, that doesn't mean you can't bring in new, quality tenants. You just need to know a thing or two about curb appeal in real estate. Whether you have a home in the metro area you're renting out or you have a small apartment building, here are ways on how to increase curb appeal and rental property landscaping.
Landscaping (Especially Around The Walkway)
Landscaping is key. This can't be highlighted enough. If the landscaping isn't taken care of around your rental property it may signal to potential tenants that the interior matches the exterior. You want to wow them before they even enter the building.

With the landscaping, make sure the area around the walkway leading up to the property receives special treatment. Plant flowers around the path, make sure to mulch, regularly mow the lawn, and keep your bushes pruned. You don't need to go over the top for landscaping, you just need to keep it neat and tidy.
Walkway Lighting
Low maintenance landscaping can also benefit from some walkway lighting. The installation of some sconces around the walkway will keep it well let, without blinding tenants through their windows. It's a safety feature as well as a beautifying one. You can go with the solar option if you'd like (which are sconces containing a small solar panel on top) so you don't have to install any electrical elements, although traditional sconces tend to be brighter and possess more design options. Whatever you decide to go with, lighting the walkway and key accent points around the property will help improve the look both day and night.
Entryway Door Colors
You don't need to choose some bold door color in order to rent your property. In fact, all you really need to do is take care of the door. This means painting the door (and removing any chipped paint so it's smooth and clean), will enhance the curb appeal of your rental property. Darker colors, like charcoal to various shades of gray and black, usually work best.

If you do want to add a pop of color that's fine, but don't go too bright. Bright yellows and oranges, will take all attention away from whatever landscaping ideas for a rental property you're utilizing, and instead place it right on the door. Entryway door colors should be clean and crisp.
Unique Numbers
Don't just go with the boring number address in small to read print. You want people to instantly know what your address is, so if they want to look up your property it's easier to figure out and remember. You don't need to name your property or use the elaborate script text. Just go with a larger profile font and maybe something that stands out a bit. If you have a historical rental consider an older, historical-looking font that goes well with the style of the home.
Just Stay on Top of It
It doesn't take a lot of over-the-top features for great rental property appeal. The trending curb appeal features really are all about keeping it neat, clean, and not overgrown. Regularly paint your property, and maintain any fencing. As long as you do this while adding the small lighting features and other touches, your rental property will really pop and attract new tenants. At Powell Property Management we are experts in how to not only rent out your property(ies) but also what tips and tricks that will give your property the curb appeal that gets your place off of the market and taken care of. If you need help updating your property and want to learn even more specific tips for your unique rental, or you just need a bit of assistance working with tenants, give us a call.