Being a landlord in Seattle can be a rewarding and profitable venture, but it also comes with several new responsibilities and challenges. For many, partnering with a property management company is an effective way to share these responsibilities and tackle the challenges you may face on a regular basis.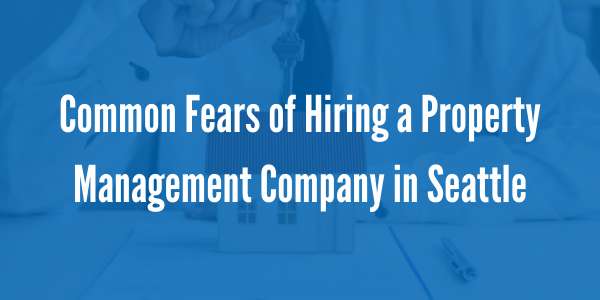 Yet, while most prospective and existing landlords are aware of property managers as a viable resource, some may still feel hesitant about hiring one. That is due in large part to the pervasive fears, myths, and misunderstandings around what, exactly, property management companies offer, the cost of an ongoing contract, and more.
How Does Property Management Work: Fears and Realities
Seattle property management companies come in different shapes and sizes, and the services they offer to landlords can also vary. In general, property managers help you with marketing your rental properties, preparing leases for new tenants, overseeing onsite maintenance, and reviewing complaints and concerns. They also contribute expertise and specialized real estate knowledge that you can use to choose investment properties, set competitive rental rates, and properly list your apartment units or single-family home. In a way, hiring a property manager is like taking on a business partner to assist with the daily operation of your real estate enterprise.
However, you may also find that thought a bit daunting—especially since you want to choose the best property management company in Seattle for your personal needs and professional portfolio.
Here is a look at some of the fears and misinformation about selecting or contracting with a firm, and what you should know to make an informed decision:
1. Hiring a Property Manager is Too Expensive
Obtaining the professional services of a property manager is an additional cost that you need to consider for your budget—but it also helps you protect your lucrative real estate holdings and turn a profit on your investment. In the long run, a good property management company collaborates with you to save you money and maximize the revenue you're making from your Seattle properties by decreasing vacancy rates, finding quality long-term tenants, and keeping up with regular maintenance to avoid major repairs. Also, full-service companies typically offer different price points or tiers, so you can select and pay only for what you need.
2. Property Managers Won't Be as Invested
Although you, as the property owner, invested time and money, to acquire a property in Seattle, it's natural to feel that no one else could care as much about this asset as you do. Keep in mind, though, that the success of your property manager is tied to your own. Like most professionals who offer a personal service, they only bring in revenue when your real estate investment is thriving and your occupancy rates are high. This motivates them to work hard on your behalf and protect your investment. Ask your potential property managers for references. Most managers value their repeat business.
3. It's Easier to Manage My Properties Alone
At first glance, it may seem that renting out a property, or multiple properties is a one-person job. That often makes landlords feel they can—or should be able to—do it all. However, when you break down all the tasks and responsibilities involved, there's much more than meets the eye. For example, managing a property as a rental involves bookkeeping, reporting, collecting rent, screening tenants, marketing, routine maintenance, repairs, and upgrades, to name a few. If you're a busy professional or you have numerous other personal responsibilities, you may not have as much time as you need to devote to property management. Hiring a company ensures you maintain a well-run rental unit while giving you the time and mental energy you need for other responsibilities.
4. It Will Harm Landlord-Tenant Relationships
Another common fear for Seattle landlords is that they will lose some control over their properties, or that inserting a third party into the mix could undermine robust landlord-tenant relationships. Maybe you even enjoy screening tenants or having occasional facetime with them. The good news is that hiring a property management company doesn't preclude you from participating in those types of activities. What it does do is ensure your tenants have continued access to a livable environment and someone to contact when an appliance breaks or they're confused about a rent increase. Property managers have established processes and systems to efficiently operate a multitude of local properties and their expertise makes them better-suited to do so. By caring for your tenants' needs in a reliable, consistent way, your tenants are more likely to have a positive perception of both your property manager and you as the landlord.
5. My Property Manager Will Have Limited Availability
While most property management companies do keep regular office hours—i.e. 9 a.m. to 5 p.m. on weekdays—they have a system in place for handling emergency issues 24/7. Whether you live in the Seattle area, elsewhere in Washington, or even out of state, this should give you peace of mind that problems will be dealt with quickly and efficiently, even after hours. Hiring a property manager also saves you the time and trouble of having to take a phone call at 1 a.m. because a furnace went out or a sink is flooding.
Finding the Best Property Manager in Seattle
While it's normal to feel a bit nervous about handing off responsibilities related to a project as involved and important as overseeing your rental properties in Seattle, there are numerous long-term benefits that make it worthwhile. The most important thing is taking your time to vet property management companies and ultimately select one. If you are still feeling uncertain about the pros and cons of property management, feel free to reach out to our team at Powell Property Management. We can provide details about our full range of services and give you a quote to help you make a confident decision about how to best maximize the success of your real estate investment.