Many people around the country consider pets a part of the family, but pets can present their own kinds of challenges within a home. So the question is - should you offer pet-friendly apartments or should you stick with a strict no-pet policy? Before you decide on the option that suits you best, here are some details to keep in mind.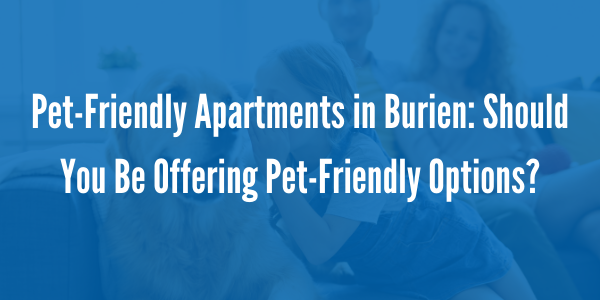 What Are The Benefits of Pet-Friendly Apartments?
When it comes to allowing pets inside your apartment building, there are a number of perks. For starters, you will garner more interest in your property as a potential rental location. More people own pets now than ever before, which means that allowing pets equals greater interest.
Perhaps you don't have trouble filling your apartment, though. In this instance, allowing pets can actually be quite profitable in the form of pet rent. There are a number of ways to do this. Some landlords charge a flat fee per pet in addition to a pet deposit (pet deposits, like a security deposit, will need to be returned to the renter should the money not be needed for repairs). Others charge monthly pet rent instead of a per pet fee. Regardless, it is possible to make pet-friendly homes worthwhile for all involved.
What Are The Downsides To Allowing Pets?
While there are benefits to allowing pets inside apartments, there are also some risks involved. Noisy pets may cause disturbances amongst other renters, which in turn can cause tension and unhappy tenants. This conflict could cause problems for you; whether it's being needed to mediate any disputes, or having to find replacement tenants if one party becomes too uncomfortable to stay.
Some pets may cause damage to your facility(ies) such as scratches, tears, or stains. While the tenant's security and pet deposits should cover incidents like these, it can still be a hassle to repair these accidents and can potentially delay future move-ins.
There is also the liability aspect to take into consideration. If, for example, a dog bites someone else on your premises, the person who was bitten may hold you partially responsible unless you clarify in your lease that you are not to be held liable. Chances are this won't lead to anything of consequence for you, but it would be yet another inconvenience to handle.
Is it Illegal for Landlords to Refuse Pets?
No, it is not illegal for landlords to refuse pets. You have the right to choose who or what stays on your property. However, it is best to have a universal rule regarding pets and to withhold from making exceptions for certain tenants. This sort of picking and choosing can lead to potential issues and/or tension further down the line. A universal rule is something you can always revisit later, so if you are considering running a pet-friendly apartment in Seattle, WA it is a good idea to make your pet requirements both specific and comprehensive.
Allowing Different Kinds of Pets
Perhaps you are interested in allowing only certain kinds of pets. Usually, this comes down to allowing cats, dogs, or both. When comparing other apartments for rent in the Burien area you are more likely to find cat-only apartments instead of dog-only apartments because cats tend to be smaller and generally less disruptive. However, you will still find more dog and cat-friendly options as opposed to other kinds of pets.
For instance, landlords generally recommend against allowing large fish tanks. On the chance that the tank breaks, the resulting water can not only damage the carpeting and the subfloor but can also lead to mold problems. Snake and rodent pets are also not always ideal despite being relatively quiet and unobtrusive. If they make it out of their enclosures, they might burrow or nest in problematic parts of the property.
While it is certainly beneficial to be in the top search results whenever someone looks up "cat-friendly apartments near me," there are both pros and cons to having a place for pets in Burien. Decide what options work best for you, and stay consistent with any rules or guidelines you'd like to enforce.
Help With Your Pet and Non-Friendly Pet Apartments
Ultimately, the decision is up to you. Pet-friendly apartments may open your building up to a greater number of potential renters, but they may also bring about more headaches. Whatever you decide to do, you'll need help managing your apartments for rent in Burien, WA, and the neighboring communities. So, whether you have dog-friendly apartments or strict people-only establishments, our management company is here to help. To learn more about how we can make life easier for you as a landlord and streamline the process of caring for your property give us a call today.