The Origins of Powell Property Management
About Powell Property Management
Powell Property Management is a division of Powell Homes, Inc., the oldest home builder in Seattle. While we have built entire communities of single-family homes, we have also created, owned, and managed leading retirement home properties and their campuses for several decades in the Puget Sound area. It was a natural extension of our capabilities, resources, and experience to establish Powell Property Management, a full service management company, managing multifamily, single family, senior housing and retail/commercial properties in the South Sound region.
Management Philosophy
Perhaps it was because we initially managed our own properties that we developed our management philosophy, which is nothing more or less than the Golden Rule: Do unto others as you would like them to do unto you. As property owners ourselves we learned first hand what owners, tenants and residents needed, desired, and demanded. As builders we had the exceptional resources to provide a high level of professional services that were both consistent and thorough. We understand the value of responsiveness and preventative maintenance.
As professional managers, we prize financial strength, integrity; and stability not only for ourselves, but for the added value it assures to our clients. Finally, since 1909 we have been in the people business— making them comfortable, safe, secure and addressing their needs as individuals. That respect for fairness, individual rights, and the humanity of those we work for and work with has won us a reputation that we prize.
Our Credo
Our credo is that it is not just a property, it is your property. And we are committed to seeing that you get the most out of it. That has been our way since 1909 when our family business began.
Core Values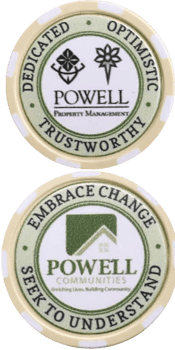 Every decision we make must satisfy two basic requirements. One, it must enrich lives and two, it must build community. This is our mission. We also adhere to five core values, which are to
1. Be Dedicated
2. Be Optimistic
3. Be Trustworthy
4. Embrace Change
5. Seek to Understand
Every team member is reminded of these core values by the coin they receive to carry with them each day.