Whether you own individual homes or an apartment building, real estate is an excellent investment. However, one of the biggest expenses to any property is maintenance. If you wait for something to become a noticeable problem before attending to it, you'll run the risk of both alienating your tenants and having to pay extra to repair bigger problems. The best way to prevent this from happening is to practice proactive maintenance. Here are a few landlord tips and tricks you'll want to follow for all of your proactive maintenance needs.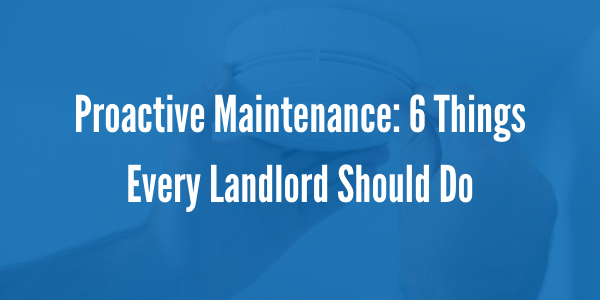 Unit Checklist
Make a checklist of everything within an apartment. The list should include things like checking wall outlets for power, inspecting sink connections and the garbage disposal, checking light fixtures, etc. Always go through this checklist between one tenant moving out and another moving in.
By having a complete and thorough checklist you can make the necessary repairs prior to new tenants moving in. You should also give the checklist to your new tenants in order to let them go over their unit and note any kind of damage or other issues.
With this further documentation you can then perform any repairs you might have missed. It also helps with establishing a physical record of the state of the apartment upon their move-in. Should an issue arise down the road you'll have this documentation on hand to show whether any damage was sustained prior to or after the tenants moved in. Landlords absolutely need to take advantage of a complete checklist.
Annual Inspections
The best tenants will want to stay longer than a single year. They will want to remain with you because they are happy with where they live, they feel like they are treated with respect, and their requests are handled in a timely manner. In this case, in addition to the landlord checklist, you will want to perform an annual inspection.
A lot can happen in a year. There might be minor issues that have developed that your tenants either haven't noticed or haven't reported. In order to make sure these potential issues don't develop further, it's a good idea to perform an annual inspection.
Make sure to notify your tenants ahead of time and be prepared to repair any issues before they turn into big problems.
Check Power Outlets
This is something small yet important. Test the electrical current of every outlet following the departure of a tenant. If an outlet doesn't work it might just mean there's a small short which can be fixed easily. At worst, however, it means there's damage to the electrical line. This can lead to electrical fires or other forms of property and physical damage, all of which can be devastating. Checking the power outlets is easy to do and can save you in a major way later on.
Lawn Maintenance
One of the most costly repairs you might have to make has to do with flooding caused by poor lawn maintenance. Flooding can displace your tenants for extended periods of time and lead to extensive damage. While having any basements, roofs, and siding inspected will help limit possible water damage, you will also need to stay on top of lawn maintenance. Bushes and trees that are too close to the building may push roots against foundation walls, leading to potential breaches and leaks. Trim any trees that might hang over the roof of your building as it will reduce the chances of roof damage, and consider waterproofing your foundation or any basement walls as an additional precaution.
Drainage Lines
This only takes a single phone call to the city, but it's an important one. Leaves, branches, and other debris may clog a city drain. When a city drain is clogged it prevents water from properly draining away from your property, potentially leading to major flooding. Be sure to inspect the drains around your property (the ones along the sides of the road). If there are any that look congested give the city a call as soon as possible.
Smoke Alarms
Smoke alarms are simple but critically important. This safety feature can help keep everyone inside a building safe by alerting residents of a potential fire, which in turn means the fire department can be contacted as soon as possible. This essential item can make the important difference between smoke damage in a unit, and a fire that destroys much of a building.
Preventive Maintenance Helps Boost Profit
Expensive maintenance pulls money out of your bottom line, but if you get ahead of the problem, regular maintenance can prevent larger issues. It's far better to be proactive and perform preventative maintenance instead of waiting for a major problem to develop and having to react in the moment. Pushing the small repairs to the side will add up, and it may alienate your tenants in the long run by forcing them to move. Avoid these kinds of situations with routine inspections, by following a landlord checklist, and doing what you can to make all needed repairs sooner rather than later. Finally, should you ever find yourself in need of maintenance and managing day-to-day operations for your rental properties, give our staff a call. We would be glad to work with you as your go-to rental property managers.