As you make the transition to a landlord, one important thing to keep in mind is insurance. Likely, you already have property insurance whether it's built into your monthly mortgage or a stand-alone payment. But what about landlord insurance? Is it something you need, or is it an unnecessary secondary expense? Here's what you need to know about landlord insurance vs homeowners insurance and whether it's right for you.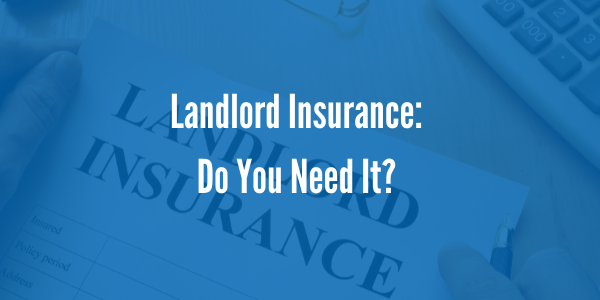 What Does Landlord Insurance Cover?
It's best to think of landlord insurance as the business side of homeowners insurance. For example, when driving a vehicle for work, you need to have it covered under a different insurance policy than your regular auto insurance. When you run a business out of your home, you need special business insurance for your home as well. The same is true of landlord insurance. As a landlord, you're essentially running a business out of your property, which automatically increases your liability.
Landlord insurance is used for any kind of property that is rented out on a regular basis. There are different forms of landlord insurance (some might refer to it as rental property insurance), which you can tweak and adjust to better fit your needs. Most policies, however, include very specific coverage.
Some include protection for certain kinds of damages caused by tenants, coverage for items used to maintain your property or even rental income protection. Most importantly, these policies also provide you with additional liability protection.
Landlord Liability Insurance
One of the most important parts of landlord insurance is its liability aspect. There are all kinds of issues tenants might blame on you. For example, if someone were to slip on your sidewalk and injure themselves, they might attempt to hold you legally responsible. In this case, having liability insurance will offer some financial protection.
Other times, the situation might have nothing to do with you or your property, but tenants might attempt to blame you anyway. If, for example, one tenant is bitten or scratched by another tenant's dog, they might try to hold you partially responsible for allowing pets in the first place. Some of this can be avoided by ensuring that language in a pet owner's rental agreement holds them fully responsible for any issues stemming from their pets. However, liability insurance is a good additional step to help protect you regardless.
Homeowners vs Landlord Insurance
On a basic level, both homeowner and landlord insurance work in similar ways. They protect the property and include some form of liability insurance. The biggest difference to keep in mind, however, is that homeowners insurance is designed to protect your property from specific issues you might encounter as a homeowner, while landlord insurance is designed to protect you from specific issues brought about by tenants.
Multi-Property Landlord Insurance
If you own multiple properties, you'll want to look into multi-property landlord insurance. By bundling different properties together under a single coverage you can cut down your per-property cost. It's important to have landlord liability insurance and other forms of coverage for each property, so bundling them all together will help decrease your overall landlord insurance cost.
If you don't have multiple properties, this isn't something you need to worry about. However, if in the future you are interested in adding to your portfolio, it may prove beneficial to convert a singular landlord property insurance package into one that covers multiple properties.
Additional Policy Options
The beauty of landlord insurance coverage is you can truly mix and match what works best for you. For example, if you offer furnished units, or if you have a lobby, gaming center, or other furnished areas within a property, then landlord furnishings coverage might be perfect for you. This makes it possible to pay for the policy options you need while skipping out on the policies you don't.
Let Property Management Assist You With All Your Property Needs
Dealing with insurance companies can take a considerable amount of time and energy. As your rental properties increase in quantity, you'll want to hand these kinds of responsibilities off to someone that understands the ins and outs of the rental business (whether or not you're still learning them yourself).
With a property management service provider at your disposal, you can avoid many of the property pitfalls of trying to stay on top of everything yourself, including working with landlord insurance policy companies.
If you're interested in learning more about property management and how much easier it will make life for you as a landlord, give our staff a call or send us an email today.