Managing your own investment properties isn't always the most efficient choice. Maintaining your investment with a property manager's expertise can boost your bottom line more than expected. A professional property management service enters with established processes, professional connections, and an understanding of your market. Whether you've newly purchased a property or are currently operating one, your multi-family complex investment doesn't have to consume your valuable time or any more of your other valuable resources than necessary.
The cost is one of the most critical factors in considering hiring a property manager. Understanding the costs and value of working with a property management team helps each landlord make an informed decision about the best interest of their investment. Powell Property Management has been managing apartment complexes in Burien and the areas surrounding Seattle for more than 100 years. We're happy to offer our unique insight to help you weigh the pros and cons of hiring a property manager.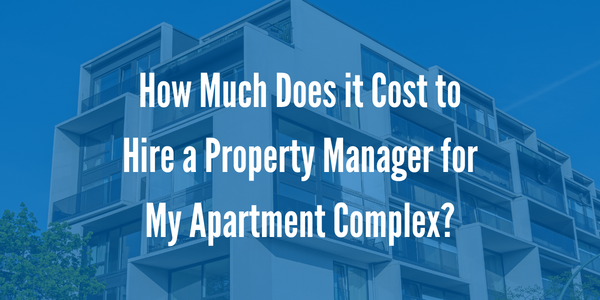 What Does A Property Manager Do?
Understanding what a property manager does helps a landlord to understand what duties they can expect to hand over and which they will need to retain. Every firm is a little different, but a full-service property manager should take on most of the following responsibilities.
Preparing your property for rent
Marketing and advertising in the right places
Showing your property and qualifying prospective tenants
Lease preparation and inspection before occupancy
Lease renewals and rent increases
Maintenance and repairs, including emergency maintenance
Semi-annual property inspections
Monthly financial services (e.g., rent collection)
Exit inspection and preparation of the property for new residents
Excellent property managers provide additional resources, education, and support for landlords and often help landlords connect to each other through common area interests.
How Much Do Property Managers Charge?
Property management fees are usually around ten percent of the total rent collected for your property. In some markets, if your multi-family unit includes more than ten units, the average property management fee may be a slightly lower percentage of the total rent collected.
Read your property management contract thoroughly and discuss any questions with your prospective team before joining forces. There may be additional services you can purchase or up-front property management fees to prepare your apartment complex for rental.
Is Hiring A Property Manager Worth Your Money?
A good property manager brings more value than their cost. Understanding ways that a property manager can save you money may make it easier to hand over the day-to-day reins of your investment apartment complex. Not only does delegating the duties we discussed above return your profitable time, but it also puts experts at the helm of your investment. Good property managers do the following things that increase your multi-family investment property's ROI. It's in everyone's interest that your property stay as consistently profitable as possible.
Find and Keep Quality Tenants
A professional property management company knows how your local rental market operates. This means they advertise in the popular places for your region and what features are trending with area renters. Many renters are attracted to working with property management companies because their portfolio of properties allows an excellent match for their search criteria. Once tenants move in, they are happy. Their concerns are promptly addressed, and communication is easy.
Professional Maintenance
A full-service property management company usually provides 24/7 emergency maintenance and next-day response to other urgent concerns. (Powell Property Management offers this and other prompt response times for more routine issues.) Property management companies retain knowledgeable maintenance experts on staff, so they don't have to locate a professional and wait for an available timeslot. Addressing minor problems promptly so they remain small, is a key practice to maintaining your investment long-term.
Industry Insight
Your property manager knows how to set rent and operate in your unique market. With a seasoned local team, it is much easier to pass local inspections and satisfy your municipality's requirements for rentals. They are already familiar with local ordinances and inspection requirements and can set you up for successful renting with a tried-and-true skill set. This gets your property to market sooner and reduces possible fees and fines.
Reduced Cost for Services
Besides employing in-house professionals, your property manager can negotiate a much lower rate for the services they need to contract because they are dealing in bulk, meaning their price might be substantially lower than you could secure for yourself as an individual.
Powell Property Management is a Trusted Partner for Seattle Landlords
Please head to our reviews to hear our happy clients tell you themselves. Our services protect your investment and your free time and provide peace of mind that your tenants are receiving professional support. The difference is more than a century in the making. Partner with Powell Property Management for your apartment complex, and enjoy a good night's sleep along with a profitable investment. Reach out here or give us a call today at 206.824.3733!