Thanks to property prices leveling off between north Tacoma and West Seattle, alongside a robust and diverse inventory cities like Burien continue to be profitable options in the nation to invest in real estate.
Several factors contribute to a strong real estate market in Washington state: employment prospects, home prices and values, local inventory, and development opportunities.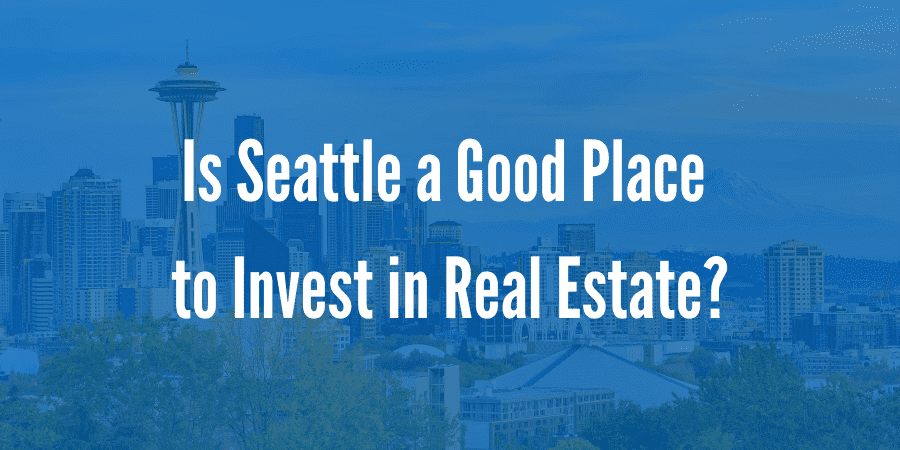 You may also like: Is Seattle a Good Place to Invest in Real Estate in 2021?
With the Seattle housing market correcting itself in 2019 in regards to several of these factors, real estate investors have plenty of attractive options heading into 2020, according to Mashvisor, an online real estate analytics provider. While this looks ideal on the surface, we have noticed a large migration of renters south of Seattle because housing costs in Seattle have gone back on the rise. So for those of you looking for a new investment property, we currently recommend you look at suburbs of Seattle.
Related: How Much Does it Cost to Hire a Property Manager?
Is it a Good Time to Buy a House?
The Urban Land Institute's Emerging Trends in Real Estate 2020 report, produced jointly with PwC consultants, describes Seattle real estate as "in expansionary mode," ranking the city as 10th in the nation in overall prospects.
The report expects little new residential home construction to occur in the coming months and demand appears to be leveling off as renters move to cities like Burien and north Tacoma to avoid rising rents in Seattle from the housing market correction.
Consider also that the median home value in Seattle has dropped about 4.5% since last year, and market values are expected to drop another 3.8% at a stable rate in the coming year, according to Zillow. While some investors are wary of decreasing home values, this trend should be taken into consideration with the large boost in property prices over the past year, which demonstrates the real estate market is restoring balance and returning to a healthy state, according to Mashvisor. It's a slightly downward trend on a largely increased principal home value since 2018.
Additionally, properties in Seattle are spending more time on the market, which does not appear to be the case in cities surrounding Seattle. This indicates buyers are not feeling pressure to purchase the first good investment property that becomes available, that renters have more options in the surrounding area, and that in general people are looking around; let's dig into why other investment property researchers are looking "outside the box".
This trend is also due to
Rising costs in Seattle due to low inventory
A large increase in inventory in South Puget Sound that has softened market rates
Thanks to the health of the Washington housing market at large, though, investors can bide their time to sift through a wide range of investment properties in surrounding areas to find their best option.
As The Seattle Times notes, the Seattle real estate market is also driven by development and redevelopment opportunities, investor demand, projected net migration, job density, and an overall strong economy.
We Recommend Properties in Burien
There is currently a diverse inventory of investment properties in the Burien market, which provides opportunities for both single-family and multi-family investors, as well as those acquiring homes to rent out.
More than 50% of the real estate market in Seattle is renters – significantly higher than in most regions – and a large portion of which is starting to move outside of the major city into places like Burien. Seattle job growth is not showing signs of slowing, but renters are looking elsewhere, which is to your benefit if you buy an investment property anywhere between north Tacoma and West Seattle.
The Economic and Revenue Forecast Council ranked Washington's overall growth as the 5th highest in the nation, as virtually all industries have experienced some employment growth since the beginning of the year. Job prospects are bright throughout the state of Washington, including the South Puget Sound where the tech industry continues to dominate.
With the demand for rental homes continuing to rise, investors can expect to see a healthy return on their investment (ROI), as long as they market and manage the properties appropriately. The choices you make as a landlord near Seattle can significantly impact how your rental property performs.
Protecting Your Real Estate Investment
Washington state real estate appears to be a worthwhile investment based on key 2019 market trends and the 2020 forecast. Rental properties are likely to continue to be in high demand along the stretch between North Tacoma and West Seattle. Whether you are looking to enter the residential rental market (if you are, here are the common mistakes to avoid when managing apartments) or add to your existing inventory, you want to find the right property manager to help protect the investment you made. Powell Property Management can help you make the most of your real estate investment by managing your properties so they stay competitive in the Seattle market.
Sources
"Market trends: Why Burien and White Center could be the next real estate hotspots." Accessed online at https://q13fox.com/2019/02/22/market-trends-why-burien-and-white-center-could-be-the-next-real-estate-hotspots/
"Seattle housing prices drop amid a glut of homes for sale, study finds." Komo News. Accessed online at https://komonews.com/news/local/seattle-housing-prices-drop-amid-a-glut-of-homes-for-sale-study-finds
"U.S. Home Prices Resume Growth, Up 2.8% in April." Redfin Report, May 15, 2019, By Tim Ellis. Accessed online at https://www.redfin.com/blog/april-2019-housing-market-tracker
"Real-estate seers expect a strong 2020 in Seattle, though not so much for housing." The Seattle Times. Accessed online at https://www.seattletimes.com/business/real-estate-seers-expect-a-strong-2020-in-seattle-though-not-so-much-for-housingattle/
"Emerging Trends in Real Estate: United States and Canada 2020." Urban Land Institute and PwC consulting. Accessed online at https://ulidigitalmarketing.blob.core.windows.net/emergingtrendspdfs/ET2020FallMeeting.pdf
SEATTLE HOUSING MARKET FORECAST FOR 2020." For Mashvisor, by Heba Baker September 30, 2019. Accessed online at https://www.mashvisor.com/blog/seattle-housing-market-forecast-for-2020/
"SEATTLE HOUSING MARKET 2019: 5 BEST PLACES TO INVEST." Mashvisor, by Heba Baker July 22, 2019. Accessed online at https://www.mashvisor.com/blog/seattle-housing-market-2019-best-places-to-invest/