Many people who are interested in investing in real estate automatically discount certain regions during their search as being either too expensive or not worthwhile when this is not actually the case. We at Powell Property Management are happy to put our extensive property management experience in the greater Seattle area to work so that you don't miss out on beneficial investment opportunities due to missing information.
We are seeing enticing rises in property values between north Tacoma and West Seattle. Additionally, robust and diverse inventory cities like Burien continue to host profitable real estate options. Several factors contribute to a strong real estate market in Washington state overall: employment prospects, home prices and values, local inventory, and development opportunities.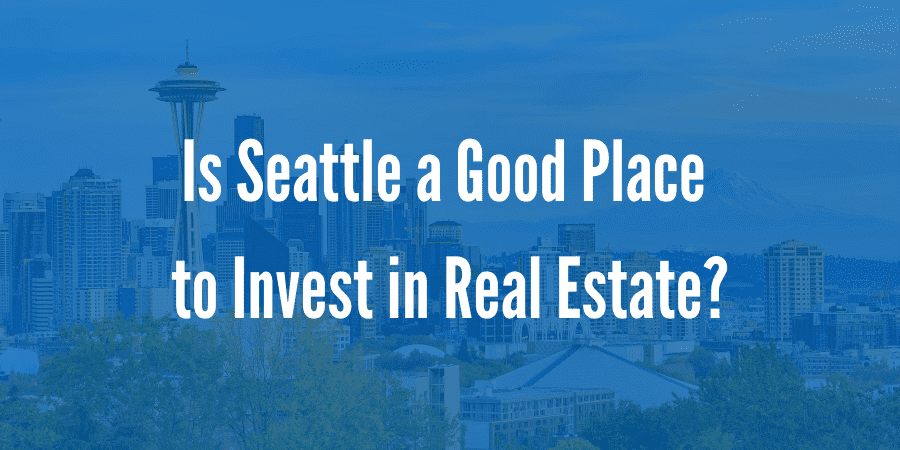 You may also like: Is Seattle a Good Place to Invest in Real Estate in 2021?
Despite relatively low inventory, the high demand created by thriving employment prospects leaves real estate investors with plenty of attractive options heading into 2022, according to Mashvisor, an online real estate analytics provider. We also note a boom in condominium sales and a rise in the prices of these gems throughout the Seattle and Tacoma area.
Related: How Much Does it Cost to Hire a Property Manager?
Is it a Good Time to Buy a House in Seattle?
As The Seattle Times notes, the Seattle real estate market is also driven by development and redevelopment opportunities, investor demand, projected net migration, job density, and an overall strong economy. Job prospects are bright throughout the state of Washington, including the South Puget Sound where the tech industry continues to dominate. Due to these factors, Seattle will continue to be an attractive place to live for the foreseeable future.
Because mortgage interest rates continue to be low, real estate sales continue to be robust in 2021 into 2022. The Urban Land Institute's (ULI) Emerging Trends in Real Estate 2021 report, produced jointly with PwC consultants, categorizes Seattle as a boomtown, attracting more than its share of talented young workers and attractive renters. ULI's report categorizes Seattle as an 18-hour city, meaning its big city amenities are a unique draw borne out by the statistics taken about migration throughout the country. Seattle is 34th on the list of rental markets to watch in its 2021 report, with growth about a standard deviation above the national mean. Economic local markets are expected to continue to expand, adding further upward pressure to the price of rent and triggering a spill from Seattle into the surrounding suburbs.
ULI's report continues to highlight average real estate investment opportunities and above-average investor demand. In other words, demand continues to be high and inventory low. While competition may be high, potential rewards in the area are enticing. The Economic and Revenue Forecast Council reported record growth in home prices in Seattle in July 2021. Seattle's economy has been especially robust in the wake of COVID-19 and its housing market has followed suit, with 2021's year-over-year gains of a walloping 7, and projected to continue into 2022 according to Mashvisor.
We Recommend Out-County Properties like Burien
There is currently a diverse inventory of investment properties in the Burien market, which provides opportunities for both single-family and multi-family investors, as well as those acquiring rental homes.
More than 50% of the real estate market in Seattle is renters – significantly higher than in most regions – and a large portion of which is starting to move outside of the major city into smaller suburbs like Burien. Seattle job growth is not showing signs of slowing, but renters are looking elsewhere, which is to your benefit if you buy an investment property anywhere between north Tacoma and West Seattle. Consider King County, Snohomish, and Pierce County, which both saw property values increase by more than twenty percent last year.
With the demand for rental homes and multi-family housing continuing to rise, investors can expect to see a healthy return on their investment (ROI), as long as they market and manage the properties appropriately. The choices you make as a landlord near Seattle can significantly impact how your rental property performs.
Protecting Your Real Estate Investment
Washington state real estate appears to be a worthwhile investment based on key 2021 market trends and the 2022 forecast. Rental properties are likely to continue to be in high demand along the stretch between North Tacoma and West Seattle. Whether you are looking to enter the residential rental market (if you are, here are the common mistakes to avoid when managing apartments) or add to your existing inventory, you want to find the right property manager to help protect the investment you made. Powell Property Management can help you make the most of your real estate investment by managing your properties so they stay competitive in the Seattle market. Please reach out to us today to learn more about how hiring the right property managers can keep your investment profitable and protect your valuable time.
Sources
"Here's One More Sign of Cooling in Seattle's Hot Housing Market" Seattle Times, by Heidi Groover November 1, 2021. Accessed online at https://www.seattletimes.com/business/real-estate/heres-one-more-sign-of-cooling-in-seattles-hot-housing-market/
"Seattle Real Estate: Prices, Trends, Forecasts 2021-2022" Novo Real Estate, October 27 2021, By Marco Santerelli. Accessed online at https://www.noradarealestate.com/blog/seattle-real-estate-market/
"Emerging Trends in Real Estate: United States and Canada 2021." Urban Land Institute and PwC consulting. Accessed online at https://knowledge.uli.org/-/media/files/emerging-trends/2021/emerging-trends-in-real-estate-united-states-and-canada-2021---final.pdf
"Washington State Economic and Revenue Forecast September 2021." Washington State Economic and Revenue Forecast Council. Accessed online at https://erfc.wa.gov/publications/quarterly-updates
SEATTLE HOUSING MARKET FORECAST FOR 2021." For Mashvisor, by Sylvia Shalhout October 9, 2020. Accessed online at https://www.mashvisor.com/blog/seattle-housing-market-forecast-2021