Landlords and property owners have plenty to consider when it comes to their rental properties, including the monthly rate per unit, how to keep up with maintenance, and how to promote properties when vacancies arise. However, another important point of consideration that has direct impact on the tenants is the pet policy for each property.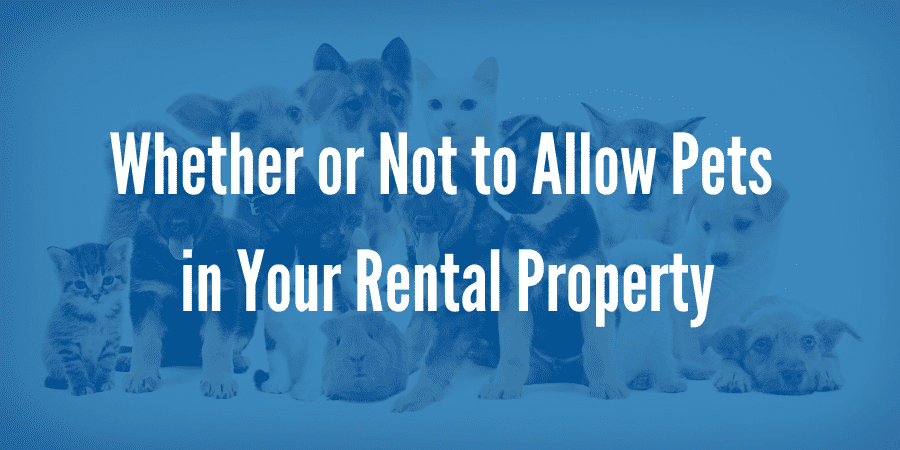 According to research from Trulia published in 2015, the Seattle metro area was ranked No. 2 among America's most pet-friendly rental markets based on several factors, including most pet-friendly landlords, least expensive pet fees, and a high concentration of pet stores and services. Even so, pet-friendly rentals remain in high demand in Seattle and the surrounding South Puget Sound Region.
While it seems like deciding whether or not to allow pets would be a simple decision to make, one way or another, there are valid reasons for both unease and enthusiasm. When you're renting apartments, is renting to pet owner a good idea or a mistake?
Common concerns with allowing pets in rentals
There is nothing inherently wrong with pets. In fact, they make the lives of many humans better in multiple ways, whether it be as service animals or simply adored companions. Even still, most landlords fear the potential additional operational costs from pet damage, including removing odors from a property between tenants.
If you're worried about the reactions and perceptions of other tenants, though, you can rest easy that renting to pet owners is unlikely to cause a big problem. According to data collected through surveys conducted by Apartments.com in 2014, the number of renters who are pet owners had increased to 72% from 43% in 2012 and they are ardently seeking pet-friendly places. When it comes to renters without pets, 75% of survey respondents said they either enjoy living in a pet-friendly building or don't have a preference.
Since nine out of 10 renters claimed pet policies play a major role in choosing where to live, according to Apartment.com, it's clear making your properties pet-friendly is a surefire way to widen your potential tenant pool and increase renewals from existing tenants.
Is it legal to charge pet rent and pet deposits?
Before deciding on whether or what to charge for pet rent, the most top-of-mind question for landlords is probably, "Am I allowed to ask for a pet deposit?" According to the City of Seattle, yes! There are rules and stipulations to follow, though, and some people may be exempt from your rules about pet rentals (see the paragraph on service animals below).

Now that you know you are allowed to ask for a pet deposit, consider whether it's best for your rental property, and use the guidelines below to ensure you stay within the confines of the City of Seattle's rules.
The financial consideration
Permitting tenants to keep pets can in fact provide a financial benefit for property owners and landlords through the collection of monthly pet rental fees, and also pet security deposits. So, how much do landlords charge for pets?
What is a typical pet deposit in the Seattle area?
Under Seattle's tenant-landlord laws, pet damage deposits can be no more than one-fourth the cost of the first month of rent. A tenant may elect to pay the deposit in three equal monthly installments beginning on the first full month the pet occupies the housing unit. Pet damages must be refundable, but they can protect your investment and help cover the cost of damage caused by the pet.
Tenants can also be charged a monthly pet rental fee as part of their rental rates, which increases your monthly income on pet-friendly properties. According to Trulia's research, the average pet deposit in Seattle was $266 and the average monthly pet fee was $32. Over time, if you are collecting pet fees from each tenant who owns a pet, you can significantly increase the income from your rental properties.
But you should also consider the possibility of renting a house with multiple pets. Per Seattle laws, you cannot request more than one pet deposit per household. Whether your tenant has one pet or four, you cannot charge them a different amount. When deciding to allow pets in your rental, consider how many pets you are alright with the tenant having on your property.
Keep in mind, though, you cannot reject an applicant with a service animal, even if you have a no-pets policy. You also cannot charge tenants deposits, extra fees, or cleaning charges for service animals, or you risk a discrimination complaint, according to the Tenants Union of Washington State. However, tenants with service animals still must follow all pet-related rules and guidelines and observe leash laws, waste disposal laws, and noise policies.
How to structure your pet rental agreement
One way to ensure the arrangement runs as smoothly as possible for you and tenants is to establish a landlord pet policy that clearly outlines rules and expectations and places responsibility on the pet owners. The policy should at least include:
What types of animals are allowed
All deposits and monthly fees required of pet-owners
Rules pet-owners must follow during their tenancy
Your policy should be included with the lease agreement whether or not you allow pets and reviewed with your tenants at the time of signing the lease. You also can request documentation – such as vet records, references, and proof of renters insurance with pet coverage – that demonstrates the pet owner is a responsible caretaker.
Additional tips for handling pets on your properties
If you're still unsure about setting up your properties to be pet-friendly, here are a few more tips from nonprofit organization American Humane to ease your concerns and help you oversee the arrangement to prevent potential issues for both parties:
Assess each prospective tenant and their pet(s) on a case-by-case basis rather than setting predetermined rules limiting the size or breed of permissible pets
Meet the pet yourself to see whether they're well-behaved and friendly, which can help ease your fears about liability and damage
Include a requirement for pets to be spayed and neutered, which helps prevent unplanned litters and mitigates undesirable behaviors that can potentially cause damage or be a nuisance for other tenants
Require pets to be vaccinated for rabies and distemper
Ask for references from previous landlords to evaluate the tenant's history and whether they kept their previous rental in good condition, even with a pet
Incorporate specific property maintenance requirements and pet care instructions into the lease
Property management teams and pet policies

Overseeing the implementation and enforcement of your pet policy is another way your Seattle or South Puget Sound property management company can be of assistance. At Powell Property Management, our team can review your rental pet policy with each applicant during the tenant acquisition phase, manage pet damage deposits, and oversee that regulations involving pets are followed properly.
---
Related reading:
Common Problems Landlords Face
Top Traits of a Great Landlord
What Makes a Good Tenant-Landlord Relationship
---
Sources
"As Pet Popularity Peaks Among Renters, So Goes Demand for Pet-Friendly Places." Apartments.com post, published August 26, 2014. Accessed online at https://www.apartments.com/blog/as-pet-popularity-peaks-among-renters2c-so-goes-demand-for-pet-friendly-places
"5 REASONS YOU SHOULD ALLOW PETS AT YOUR RENTAL PROPERTY." Rentec Direct. Accessed online at https://www.rentecdirect.com/blog/5-reasons-allow-pets-rental-property/
"American's Most Paw-some Rental Markets for Pet Owners." Trulia, published April 2015. Accessed online at https://www.trulia.com/research/pet-rental-markets/
"Fair Housing and Disability Laws FAQ." Tenants Union of Washington State. Accessed online at https://tenantsunion.org/en/rights/faq/fair-housing-disability-laws#do-i-have-to-pay-a-pet-deposit-for-my-service-animal
"Seattle Landlord-Tenant Laws." Seattle Department of Construction and Inspections. Accessed online at https://www.seattle.gov/dpd/cs/groups/pan/@pan/documents/web_informational/dpdd016420.pdf
"Pet-Friendly Tips for Landlords." American Humane, nonprofit organization, blog post. Accessed online at https://www.americanhumane.org/fact-sheet/pet-friendly-tips-for-landlords/
"Judge upholds Seattle cap on move-in fees for renters." Seattle Times. Accessed online https://www.seattletimes.com/business/real-estate/judge-upholds-seattle-cap-on-move-in-fees-for-renters/
"7 Questions Landlords Have About Pets and Pet-Friendly Apartments." Rental Housing Journal, published April 22, 2019. Accessed online at https://rentalhousingjournal.com/7-questions-landlords-have-about-pets-and-pet-friendly-apartments/