From heart-breaking dog attacks to staircases that collapsed under tenants, accidents and injuries on a rental property always begin a discussion of liability. Who is responsible if someone gets hurt? We have seen and heard some true horror stories over the years, and we would hate for any landlord or tenant to end up in a contentious legal situation where a little prior knowledge could have stopped the trouble before it started.
Powell Property Management is a great solution for any of our Burien, Washington neighbors who desire profitable real estate investment without taking on the arduous daily tasks of landlord reality. Let us leverage our more than one hundred years of property management expertise on your behalf!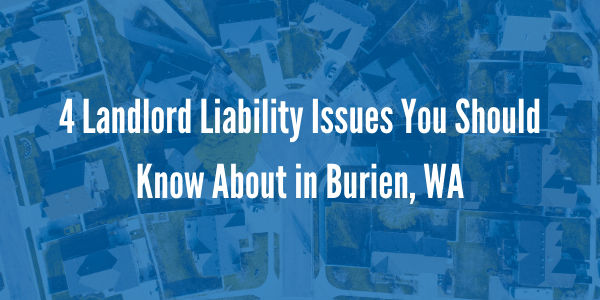 Here are some of the most surprising landlord liability issues we repeatedly encounter. Arm yourself with the knowledge you need to protect yourself and your investment.
1. Environmental Hazards
Elements of the home, such as lead paint, must be clearly disclosed to tenants. Failure to do so can result in a lawsuit. Other common environmental hazards such as improper ventilation, carbon monoxide, and mold can create liability concerns if not appropriately addressed.
2. Animal Bites and Attacks
Without a smart lease and liability insurance, some landlords are surprised to find themselves on the business end of a lawsuit related to an altercation one of your tenant's guests had with your tenants' animal. Landlords have successfully been sued for allowing pets who have injured others, especially if the landlord knew the animal was dangerous. If you are concerned about this issue but would like to allow pets, consider a clause that will enable you to change your pet policy for any reason with thirty days' notice so that you can respond to any issues within the bounds of your lease.
3. Criminal Activity
Landlords can be held liable for a crime committed against their tenants if they know of criminal activity in the area and fail to inform tenants and take reasonable safety precautions. Promptly fix locks, broken windows, and security lights and make timely disclosures if needed. Conversely, landlords have also been successfully sued for their tenants' criminal activity, especially when the landlord was aware of the tenants' behavior and the behavior posed a risk to the surrounding neighborhood.
4. Tenant Injuries
A tenant who is seriously injured as a result of disrepair that they have previously notified their landlord about has a good case for a lawsuit. Keeping everything in good repair and promptly addressing icy or snowy sidewalks (if this maintenance is your responsibility within the lease) will protect you from these issues. Landlords are not typically held liable for freak accidents or injuries a reasonable person could not have expected.
Tenant's Liability
Your lease should speak to specific areas of liability and clearly outline landlord and tenant responsibilities. Every lease is different, but there are some universal responsibilities for tenants, such as:
Keeping a habitable dwelling
Notifying the landlord of maintenance needs in a timely way
Pay for damages they or their guests caused
Leave the premises in the condition in which you found them
Renters insurance is a fantastic idea for both landlords and tenants. It is also more affordable than most people think. Rental insurance replaces the tenants' belongings in a disaster and usually includes liability coverage for the tenant. Consider requiring renters insurance with liability coverage as part of your lease agreement to ensure that everyone is protected in the case of an accident or other unfortunate circumstance.
Landlord's Responsibility
One of the most powerful strategies to decrease the likelihood of a legal issue is to be proactive. Attentive and informed landlords experience far fewer legal challenges from their tenants. Basic landlord responsibilities include:
Disclose required information such as safety information and fire protection.
Maintain habitable housing
Follow local, federal, and state laws
Provide

a legal written lease agreement
Landlord Liability Insurance
Landlord liability insurance is your best bet to combat landlord liability issues such as these. Landlord liability insurance, sometimes known as landlord protective liability, is a must for every landlord. Landlord liability insurance typically costs less than homeowners' liability insurance but functions in much the same way. Insurance policies are customizable and can be built to suit your needs and preferences. For example, some policies include protection against damage caused by a tenant, whereas others focus exclusively on protecting you from legal liability from events on the premises while your tenants are renting.
Premium Property Management in South Sound
Unfortunately, the need for legal interactions with tenants is one of the most common problems landlords in West Seattle face. At Powell Property Management, we have the expertise and bandwidth to be the attentive landlords your tenants deserve while growing your investment through vigilant stewardship. Reach out here if you're in Burien, Normandy Park, or Des Moines, WA, or give us a call today to get started.