Many tenants express concern about mold and air quality when choosing their next apartment. You could deter quality tenants by showing a property with visible mold or by being unprepared to answer their questions about mold on the property or mold removal policy. Further, you could seriously jeopardize your NOI (net operating income) with a recurring maintenance expense if you don't correctly remediate the mold you find. Capitalize on your investment apartment property by keeping mold at bay.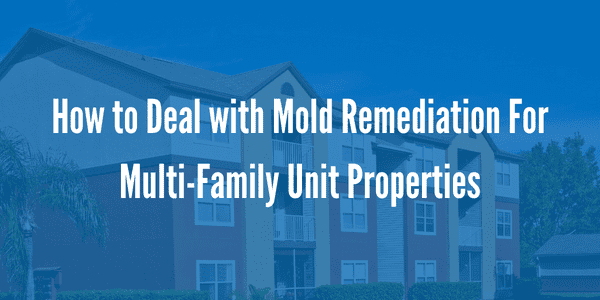 Powell Property management has been in business for more than one hundred years and managing others' investment properties for more than fifty. Our expertise and longevity in multifamily properties mean our on-staff 24/7 maintenance staff has absolutely seen the good, the bad, and the truly disgusting. We're pleased to provide the freshest moldy information for landlords of multifamily properties.
How Common is Mold in Apartments?
Mold often appears among top landlord liability concerns. Mold is common in all places that experience moisture. Apartments include even more opportunities for indoor plumbing leaks and water seepage than traditional buildings because of their increased footprint and plumbing requirements. Therefore, apartment units commonly experience mold. Luckily, most mold is not harmful to most people and is easily removed.
What is Mold Remediation?
Mold remediation is the process of inspecting, testing, containing, removing, sanitizing, and preventing future mold. It is much more complicated than removing visible mold when it appears.
How Do you Identify Types of Mold?
A professional mold removal company can conduct mold testing and inspections to identify the type of mold growth and make a removal plan.
Identifying mold types on your own is much easier with technology. Several home inspection apps aid in mold identification. You can also purchase home mold identification kits that provide results in a few minutes. Many pictures and infographics online may also assist in matching your mold.
When is Mold an Emergency?
Mold requires professional intervention if the space is more than ten square feet. (That's a little smaller than a three-foot by three-foot square.) Mold also requires emergency maintenance if occupants experience a sudden, unexplained increase in respiratory symptoms.
Is a Landlord Responsible for Mold?
A Landlord is responsible for promptly repairing leaks that cause mold and addressing mold concerns if a tenant reports them. A landlord is also responsible for removing any mold they are aware of before renting a property.
Most states also require that a landlord provide general safety information about the property and mold. The Washington State Department of Health produces a helpful guide for landlords and tenants with mold concerns, with printable resources that can satisfy a landlord's requirement to provide information about mold.
Mold Removal Strategies
The National Multifamily Housing Council (NMHC) has fantastic resources for landlords of multifamily properties. Their Operations & Maintenance Plan for Mold and Moisture Control in Apartment Properties is an excellent comprehensive guide that includes a more in-depth conversation about mold remediation.
If you are addressing a small mold concern on your own, follow these steps:
Remove the water source. Fix the plumbing and stop leaks.
Remove the visible mold with a strong cleaner like bleach
Dispose of upholstery, carpet, or other absorbent materials.
Do not paint over moldy surfaces, as this will not stop or kill the mold. Wear a mask and protect your breathing as you stir up microscopic particles.
Call a mold removal company if the moldy area is larger than ten square feet. Mold removal companies in Seattle are responsive and efficient.
Mold Removal Timeline
How long does a landlord have to fix a mold problem?
There is no set timeline for mold removal. The law requires a timely and reasonable response. Prompt response is essential with a mold concern.
What Happens if a Tenant Moves Out Due to Mold?
If a landlord knew of mold before a tenant moved in and the tenant moved out due to mold, a tenant can break their lease and/or successfully sue for removal or damages.
How Does Mold Remediation Affect Home Value?
Buyers may be wary of a home with a history of mold remediation, especially if the source of the moisture that caused the mold has not been explained or addressed. In these cases, the resale value of a home that has undergone mold remediation is reduced by about three percent. Your home value may be further impacted if a prospective buyer discovers mold during the inspection.
If the cause of mold has been repaired and the mold has been fully remediated, many properties do not see a reduction in their home value.
Make a Sound Investment in South Sound
Your investment property does not need to be the biggest investment of your time. Choose the family-owned property management company in South Sound with more than one hundred years of experience under their belts.
Our around-the-clock in-house maintenance equips us to respond to tenant concerns in the next business day or urgently if necessary. Powell Property Management's extensive experience managing Burien multifamily apartments makes us a sound and reliable investment.
Whether we're your first property manager or you are ready to upgrade to more comprehensive services, we're excited to connect with you. We're confident we'll earn and keep your business.