Being a landlord in Washington State comes with numerous responsibilities. You want to successfully protect your real estate investment and care for your property while also ensuring a certain standard of safety and quality of life for your tenants.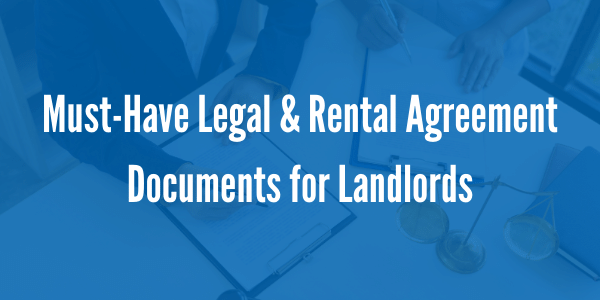 Having the right legal documents on hand enables you to be prepared to carry out your responsibilities and deal with both mundane and emergency situations as they arise. Proper paperwork also helps you maintain extensive records of your rental properties and keep your accounts up to date.
Legal Paperwork for Landlords in Washington State
Whether you are a new or established landlord whether in Seattle or in Washington State at large, you know paperwork is just a regular part of the job. While it can be a bit cumbersome, thinking ahead and being prepared helps save time and energy. Here are some of the must-have documents you will need to onboard new tenants, manage the landlord-tenant relationship, and take good care of your rental properties:
1. Lease Agreement
The lease agreement is one of most critical documents in your arsenal as a landlord. Your lease agreement paperwork stipulates the legal terms of renting to a tenant and clarifies the rules, regulations and obligations that apply to both parties. Without a well-written lease agreement, it can be more challenging to manage the tenant-landlord relationship, and you may even subject yourself to potential lawsuits that cost you financially and emotionally.
2. Cosigner Agreement
In some cases, you may have a prospective tenant who has limited evidence of a credit score and rental history. Or an otherwise attractive tenant used to have a poor credit score when they were younger, and they are currently working to improve it. Either way, you don't want to completely overlook the tenant but you also want some security. That's when you may want to get a cosigner on the lease who will assume liability should the tenant fail to pay rent or cover the costs of damage they caused to the rental. It's a good idea to have a cosigner agreement drafted and ready to be used in such scenarios.
3. Inspection Worksheet
Another important document is the inspection worksheet or rental inspection report, which is filled out by you and your tenants before they take possession of an apartment unit or single-family home. It gives you both the opportunity to carefully document the current condition of the property and take note of any existing damage. By having this shared record on hand, you can avoid or easily settle disagreements about whether a problem occurred before or during a tenant's occupancy. You should also add photo evidence to this document to help resolve disputes over the property's condition when the tenant is ready to move out.
4. Notice to Enter
Washington State law prohibits a landlord from entering a renter's home or unit without proper notice. You are required to give renters at least 48 hours written notice to inspect the space, make repairs or supply services. You must give 24 hours notice if you want to enter the home or unit to show it to prospective tenants or buyers. To help with this process, make sure you have a notice to enter included among your legal documents.
5. Proof of Rental Registration
Landlords in the City of Seattle are required to register all rental units with the state through the Department of Constructions and Inspections. You must renew the rental property registration every five years, and you are subject to various civil penalties if you fail to comply. You should keep a copy of your rental registration as proof of your compliance.
6. Tax Documents
Other musts for landlords are getting your taxes in order related to your property and rental income. In most cases, you must report all rental income on your federal tax return. In general, you will use Schedule E (Form 1040) to report income and expenses from rental real estate. Net investment income tax may also apply to your overall rental income. You should use Form 8960 (Net Investment Income Tax Individuals, Estates and Trusts) to figure the amount of this tax.
Managing Your Rental Properties in Washington State
Being a landlord is a good way to capitalize on a residential real estate investment in Washington state and turn a profit. However, making that happen requires ample work and due diligence. When you partner with an outside source, such as Powell Property Management, you receive help not only with marketing, maintaining and managing your properties, but also with the small responsibilities that can dramatically affect the success of your venture. We keep records of important documents and track changes to state and local laws that impact the rental industry, giving you peace of mind that you are adequately fulfilling your obligations as a landlord.
(Please note that these legal documents and terms discussed above apply in Washington State as whole and could vary city to city with their specific requirements)