Thanks to the growing job market and demand for housing between north Tacoma and West Seattle, suburban Seattle cities like Burien, Des Moines and south King County in-general, continue to be profitable places to invest in real estate, especially for rental purposes.
Several factors contribute to a strong real estate market in Washington State, including lower interest rates, ample employment opportunities, increasing home values, and a wealth of development opportunities. Job prospects are bright throughout the state of Washington, including the South Puget Sound region, where the tech industry continues to dominate. Whether you want to invest in multi-family housing, such as condos or an apartment complex, or single-family housing, the Seattle area (particularly south Seattle) has plenty to offer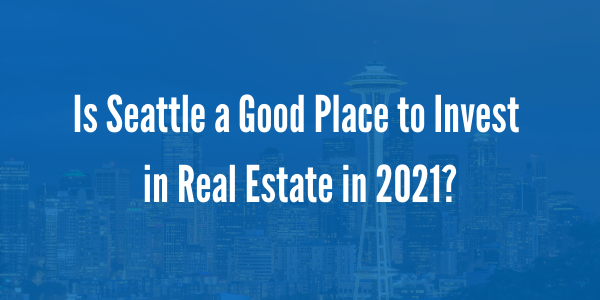 Is it a Good Time to Buy a House in Seattle?
The Urban Land Institute's Emerging Trends in Real Estate 2020 report, produced jointly with PwC consultants, describes Seattle real estate as "in expansionary mode," ranking the city as 10th in the nation in overall prospects.
Currently, the Seattle housing market is seeing low inventory and high competition—a trend that is expected to continue throughout 2021. For example, the number of active listings in King County in January was down more than 12% from the same time last year, according to the housing report from Northwest Multiple Listings Service (NMLS). Condos are both more prevalent and more reasonably priced than single-family homes at this time.
While the city's shrinking inventory positions the market in favor of sellers, it's not a reason to shy away from Seattle or the surrounding suburbs when looking for investment real estate. It simply means you may face a bit of a challenge finding the right properties to add to your portfolio because supply isn't currently keeping up with demand. Also, there's been a slow down in new construction in Seattle for many months. Since there are significantly more buyers looking for real estate in King County than there are available homes for sale; you'll have to be patient.
On the flip side, many prospective landlords and homebuyers are wanting to take advantage of low interest rates in 2021, which can help offset the escalating cost of housing in the Seattle area.
Is Seattle Real Estate a Good Investment?
While the inventory in Seattle—and the entire South Puget Sound—is tight, purchasing real estate in the area is still a worthwhile investment. In particular, condos present a good opportunity if you are looking for properties to purchase and turn into rentals.
Since 2019, the rental population in Seattle has been increasingly outpacing the estimated homeowner population—a housing trend that hasn't happened in Seattle since the 1910s. Census data had been predicting this eventuality for several years, with Seattle's renter population growing at twice the rate as the owner population since 2010.
There may be several factors that account for this trend, but the main one is that home prices in Seattle have soared in the past decade, beyond what even many residents with reasonably good incomes can afford. For example, since 2012, the median home price in Seattle has increased from $365,000 to roughly $800,000, which is an appreciation of almost 120%.
While you are inevitably looking at a big upfront investment if you want to acquire real estate in Seattle, there is also long-term value to be obtained, especially if you rent out the units to tenants. People are drawn to the area for several reasons that are unlikely to change any time soon. Since 2010, Seattle's population has grown by nearly 20% and the Seattle job market continues to add qualified home buyers. In short, Seattle's real estate market is strong and resilient, which offers a sense of security in case you need to sell the property in the future.
Purchasing Properties in Burien
Another factor to consider if you are looking to invest in real estate in South Puget Sound is that many renters are starting to move outside Seattle proper into places like Burien and South Seattle in-general. Job growth in the region shows no signs of slowing, but renters are looking elsewhere to settle down. This trend was already on the rise but the pandemic and expansion of work-from-home options have made it all the more popular. Individuals can now seek out the best suburbs of Seattle—such as Burien, Des Moines, Normandy Park and others—to find better value on housing, low population density and a higher quality of life while maintaining their lucrative urban job.
Burien, a southern suburb of Seattle that sits along the banks of the Puget Sound, is one of the most walkable communities in Washington State, in addition to possessing many other attractive qualities. For renters in the Seattle market, Burien provides access to ample recreation, safe neighborhoods, reliable public transportation, highly rated public schools, and a variety of natural and cultural attractions and amenities.
There is currently a diverse inventory of investment properties in the Burien market, which provides opportunities for both single-family and multi-family investors, as well as those acquiring homes to rent out.
With the demand for rental homes continuing to rise in this and other Seattle suburbs, investors can expect to see a healthy return on their investment (ROI), as long as they market and manage the properties appropriately. The choices you make as a landlord near Seattle can significantly impact how your rental property performs and whether your investment is maximized in the long run.
Protecting Your Real Estate Investment
Washington real estate according to the experts is a worthwhile investment based on key 2020 market trends and the 2021 forecast. The Seattle real estate market is driven by development and redevelopment opportunities, investor demand, projected net migration, job density, and an overall strong economy. Plus, rental properties along the stretch between North Tacoma and West Seattle are likely to continue to be in high demand. Whether you are looking to enter the residential rental market or add to your existing inventory, you want to find the right local property manager to help protect the investment you made. Powell Property Management can help you make the most of your real estate investment by managing your properties so they stay competitive in the Seattle-Metro area market and so you won't have to worry about all the legal and tenant details that come with managing a property.