Real estate is often viewed as a solid investment choice. Whether your residential or commercial investment property turns a profit, however, depends substantially on where it's located and how you manage it.
If you want to invest in Washington real estate, it's important to make your purchase in an area that possesses desirable traits, such as a thriving economy, healthy real estate market, and welcoming business climate.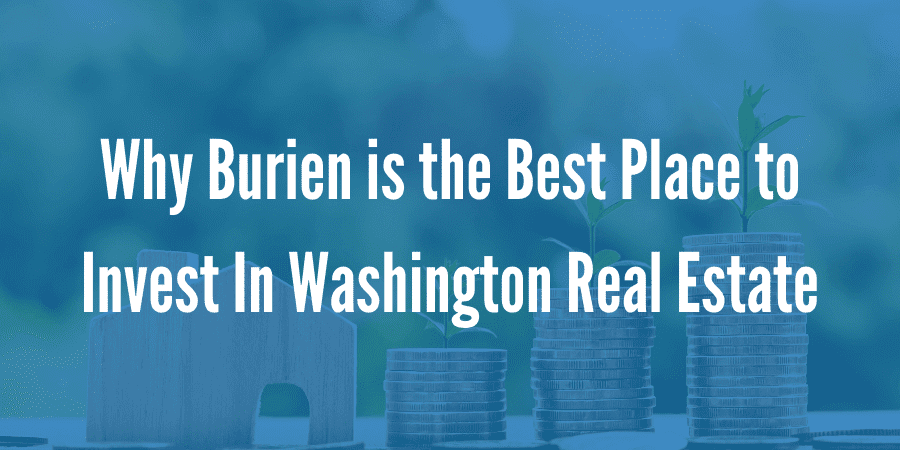 Where to Make Your Real Estate Investment
Within the South Puget Sound area, Burien is an up and coming community. Whether your interest is commercial or residential real estate, you have the opportunity to get in on the ground floor and manage space where Burien's residents and businesses can live, work, and thrive. Here are eight reasons to consider Burien for your next commercial or residential real estate investment in Washington State:
1. Healthy Real Estate Market
Burien has a healthy real estate market by several indicators. From 2004 to 2014, the housing value increased nearly 55%. Currently, the median home value is approximately $440,163. While housing prices are increasing, they are still preferable to those in nearby Bellevue, Seattle or Tukwila, making Burien a sought-after location for prospective home buyers.
2. Affordable Properties Available
One of the best aspects of Burien's market is the availability of affordable real estate options both for commercial and residential use, with the residential market comprised primarily of apartment complexes and single-family homes. You can get more space per your dollar, which you can in turn rent to businesses relocating from cities like Seattle who are looking to expand their footprint in a cost-effective way. For example, as of 2017, the average retail lease rate in Burien was $12 per square foot compared to $31.30 in Seattle and $35.01 in Bellevue. Meanwhile, the average office lease rate was approximately $18.65 per square foot compared to $47.13 in Seattle and $34.85 in Bellevue. As people look for areas in South Puget Sound to settle down or establish their business, Burien is gaining more recognition as a locality that blends big city opportunity with a charming community feel.
3. Thriving Downtown Core
Burien's downtown area continues to thrive, which benefits residents along with independent businesses. The downtown core has the third highest Walk Score in Washington, along with a plethora of multimodal amenities and dining and retail establishments. Additionally, the community has made significant investments into the downtown area, including the recently completed $193 million Burien Town Square development.
4. Public Transportation
Public transportation is an important factor when people decide where to live and work. Burien is part of the King County Metro system, which allows you to take the bus, train or community shuttle to get around. The community shuttle is a local service in Burien that transports riders between the downtown core, Seahurst Park, Highline Medical Center, and Gregory Heights. Several bus routes also connect Burien to Link Light Rail at Tukwila International Boulevard Station or Sea-Tac Airport Link Station, as well as to Sounder Commuter Rail at Tukwila Sounder Station. The public transportation makes it easy and convenient to get around the city, as well as to commute to Seattle or the surrounding suburbs for work.
5. Atmosphere for Creativity and Creators
Arts and culture are not only important economic drivers, but they also are indicators of a community's overall health and appeal. As the home of such organizations as the Burien Actors Theatre and The Northwest Symphony Orchestra, the Burien community hosts a wide variety of performances, exhibitions, and shows. Burien is filled with a spirit of creativity and innovation, as evidenced by the weekly Farmers Markets, evolving Art Alley, and other events and activities.
6. Preservation of Natural Beauty
Burien is a city that values and invests in preserving its natural resources, such as the Seahurst Park, which features about 180 acres of forests, trails, and beaches along the Puget Sound. Seahurst Park is also home to the Environmental Science Center, which promotes environmental stewardship and educational experiences. The city's progressive approach to conserving its natural resources is a promising sign if you're looking to make a long-term investment in local real estate.
7. Inviting Business Climate
The business climate in Burien is perfect for cultivating growth and sustainability for both startups and established companies. The community is generally supportive of its small, local businesses and has long prioritized economic development, which makes it easier for entrepreneurs to envision a future in Burien. From transportation developments to propelling job creation in the Northeast Redevelopment Area (NERA), the city of Burien and local community leaders are committed to making Burien business-friendly. Meanwhile, the business and occupation tax rate in Burien is 0.001%, which is less than half of Seattle's 0.00219%, and businesses making less than $200,000 annually are exempt.
8. Opportunities to Tap into Tourism
When you purchase residential real estate in the South Puget Sound area, you have the option to use it for traditional purposes or to serve visitors through agencies like Airbnb. The current cash on cash return for residential properties used for traditional purposes is about 1.33% compared to about 1.21% when used for short-term or vacation rentals.
Managing Your Real Estate Investment
Burien is making a name for itself in numerous ways: local business incentives, affordable real estate, a thriving downtown core, ample economic opportunities, and easy access to Seattle and other cities in the South Puget Sound region. Collectively, these qualities make Burien a desirable place to work, live, and invest in real estate. If you're planning to purchase commercial or residential property in Burien, consider partnering with Powell Property Management to help you successfully manage and make the most of your investment.
You may also like: