If you are looking for investment properties in the South Puget Sound area, there are various ways to scour the market place and see what's available. For example, your real estate broker may have access to the multiple listing service (MLS) that enables them easily browse all the multi-family properties for sale by participating brokers.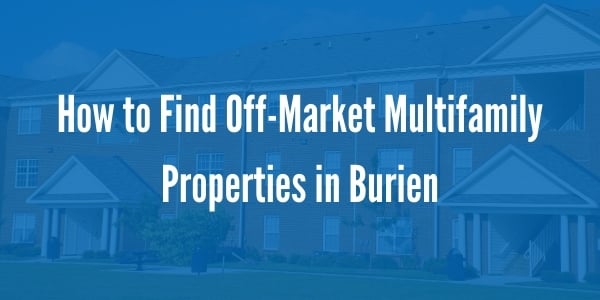 However, it's important to keep in mind that the MLS doesn't necessarily account for every available property and investment opportunity in Burien and the surrounding area. There may be multifamily complexes that simply aren't being marketed in the traditional sense but could perfectly fit what you're looking for.
What are Off-Market Property Listings?
Off-market listings—also referred to as pocket listings, non-MLS listings and off-market properties—encompasses properties that owners are willing (or could be willing) to sell, even if they're not currently listing them outright on the open market. For that reason, they won't show up in an MLS, giving the incomplete picture of high demand and a low supply in the region.
If you're finding it hard to find a good deal or the right property by relying primarily on marketed listings, think about switching your focus to off-market multifamily properties. Here are a few ways to identify off-market real estate deals in the Burien area:
1. Word of Mouth
As with any industry, being successful in real estate comes down to who you know and how you network. Many times, word of mouth is the primary way by which a property sale is made known. You may hear from a broker or a current property owner that they plan to sell a multifamily housing complex, giving you an upper hand. If your friends, family members and colleagues know you're looking for real estate investment opportunities, you also could ask them to let you know if they come across an off-market property that would fit your investment portfolio.
Additionally, property owners often alert their existing tenants when they plan to sell the building. In that case, you may hear from tenants who are looking for somewhere else to live because their multifamily housing complex is being sold. That gives you firsthand knowledge of an impending sale and the chance to investigate before the property goes on the market.
2. Washington Multi-Family Housing Association
The Washington Multi-Family Housing Association (WMFHA) is a collection of more than 180 property management companies and owners of multifamily properties of different kinds. Members work collaboratively to promote and enrich the multifamily housing industry in Washington State. As a member of the WMFHA, you have access to various perks and resources. You also get connected to others in the industry, and you can use those connections to find out when multifamily properties in Burien are going up for sale. Other associations to continue joining for networking purposes include the Rental Housing Association of Washington and Washington Landlord Association.
3. Public City Tax Records
Local records, which are open to the public, often include short sale properties and pre-foreclosures in the South Puget Sound area. Both of these can be lucrative investment opportunities. Keep an eye on local and state government websites, as well as newspapers listings, for foreclosures or other multifamily real estate that is soon to be listed. It's also a good idea to set up an alert on a resource like HUD Home Store to find out about up-and-coming properties. You can contact the owner directly and discuss the opportunity to purchase their multifamily building.
4. Direct Mail Marketing
Through a direct mail marketing strategy, you can reach out to a targeted group of multifamily property owners and express an interest in purchasing their building or apartment complex. Essentially, you are alerting the owners to an opportunity they might not have realized existed. And even if they're not ready to sell yet, they'll have your name and contact information in case they change their mind. This method requires due diligence and research so you can clearly identify the traits of your target audience and how to best implement your mailing campaign. You also can potentially rent or buy direct mail or email lists from various vendors and use that contact information for your campaign. Don't be discouraged if you don't see results right away. It might take time, but it's worth it to acquire a desirable property that fits well into your portfolio.
5. Online Websites
Trulia and Zillow are best known for listing properties that are on the market, but you can occasionally find pocket listings on these websites. Zillow allows property owners to list a property up to 30 days before it goes on the MLS. Opendoor also had become a popular online marketplace where buyers and sellers can complete transactions without the properties being listed on the MLS. Although these off-market listings tend to be fairly competitive, it's worth tracking such sites to see what you might come across. You can make your search more efficient by using filters and setting up alerts.
6. Real Estate Auctions
Real estate auctions in the South Puget Sound area can also be a great resource for accessing a steady stream of off-market properties being sold for relatively cheap. You can keep track of upcoming auctions through your network connections, the county courthouse and auction websites like Auction.com and RealtyTrac. Multifamily housing at auctions is often being sold because back taxes are owed. The two main types of auction properties include real estate owned (REO) properties and foreclosures. They're both typically sold "as is," so you'll want to make sure to get them inspected or at least gather as much information as you possibly can before bidding to make sure you're still getting a good deal after paying for repairs on the building.
Managing Your New Property in Burien
Once you've detected and acquired the perfect multifamily housing complex to invest in, the next step is finding a qualified company to help you manage it. At Powell Property Management, our team is deeply familiar with the personal involvement and high standards of residential property owners. We have experience managing multiplexes, apartment communities and other types of multifamily housing in Burien. Our full suite of services can relieve you of the burden of managing your properties while ensuring your real estate investment is not just protected but maximized.