Whether you are looking to purchase a rental property or find your new home as a renter, understanding the current climate of your local rental market gives you the information you need to make the best moves possible in 2023.
Powell Property Management is a family-owned company that has supported South Sound and Greater Seattle for over 100 years. We've honed our skills and built our perspective on more than a century of experience, which means we've operated and thrived under market conditions of all kinds. We've turned our eyes toward the Seattle real estate market in 2023 and beyond, and we're happy to tell you what we see.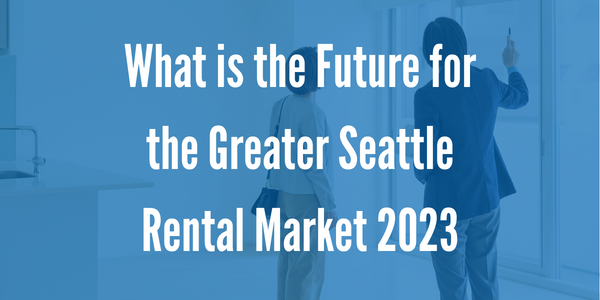 Projections for the Rental Market in Seattle in 2023
Setting rent in and around Seattle differs from surrounding areas in the state and nation. Renters interested in Seattle will pay more for the convenience and opportunity to live near the action. In 2022, the average rent in Washington state is $1,490 for a one-bedroom apartment, whereas the average Seattle apartment rent is $1,970 for a comparable space.
Rent prices in metro Seattle are set to rise further in 2023 and at a faster rate than many other markets in the nation. Average rent increases in downtown Seattle topped 19% last year. King County can expect a rise in rents by 15.7% in 2023, where the median prices for homes in the area are projected to rise by less than half that (7.2%). This, along with rising mortgage rates, could dampen demand for individual homebuyers and take some teeth out of the current seller's market for property in the area. A more extensive inventory of available rental properties could act as a downward force on rent, but the demand created by more people staying in their rentals as opposed to purchasing a home is likely to more than offset this change.
However, when compared to other markets and their surrounding metro area, Seattle's economy and the prices reflected within its real estate continue to be some of the most robust in the nation. Because property value continues to increase, we can extrapolate that rent will continue to rise through 2023.
Rent Increase Caps
Many of our owners have noted the recent movement in our area to codify and cap rent increases and have looked to us for guidance as we strategically balance the market conditions with local requirements and profits in mind. Though recent legislation to impose a rent increase cap was unsuccessful, local regulations and possible future caps are vital to consider. For example, current rules in King County state that you cannot increase rent by more than 10% without at least 180 days' notice. A local expert, such as a property manager, can help you legally assess and address rent increases according to the jurisdiction in which your property is located.
Up and Coming Rental Markets Near Seattle
Many renters are expanding their search outside of the Seattle city limits to find and afford the amenities and features they prioritize. Burien, Normandy Park, Des Moines, Tukwila, and other South Sound cities are experiencing increasingly robust rental markets for young families and professionals.
Multi-Family Investment Properties in Seattle
South King County continues to be an excellent focus for multi-family property investment. Steadily increasing rent and high demand means that landlords can vet and select quality tenants. Investors in multi-dwelling units are advised to look near desirable amenities in markets with good economic indicators. They are spoiled for choice of suitable markets in the Greater Seattle area. Finding the perfect property within that market can be another matter. With inventory in short supply, this market can be competitive. Connecting with local landlords, property management companies, real estate agents, and investing groups can increase your chances of finding the right investment apartment building with insider information.
Single-Family Home Investment
Investing in rental homes in Seattle follows similar trends in rent prices and inventory. Single-family rental homes are tied even more closely to the residential market because they can be indistinguishable from owner-occupied dwellings. Finding single-family homes to purchase as investment rentals can be an excellent way to round out your portfolio at a lower price point than multi-family dwelling investments.
Let Powell Property Management Do the Heavy Lifting
Investing in Seattle real estate does not automatically commit you to all of the duties a landlord must undertake. Your valuable time and resources may best be devoted elsewhere. Expert property managers like Powell Property Management have the experience and skill to provide premium support to you and your tenants on the first day we arrive on the scene. Our insight, expertise, and professionalism keep your investment profitable and your tenants happy. We'd love to talk more about how Powell can elevate your Seattle area investment properties. Let's connect today.