If you're considering hiring a property manager to ease the difficulties of being a real estate investor or property owner, one of the first questions you're asking is probably this: How much does property management cost?
The answer, of course, is not always simple—the average cost of property management services will vary, especially depending on whether your real estate investment is residential or commercial. Most property management companies, however, have set rates that allocate a percentage of your property's monthly rent to utilize their services.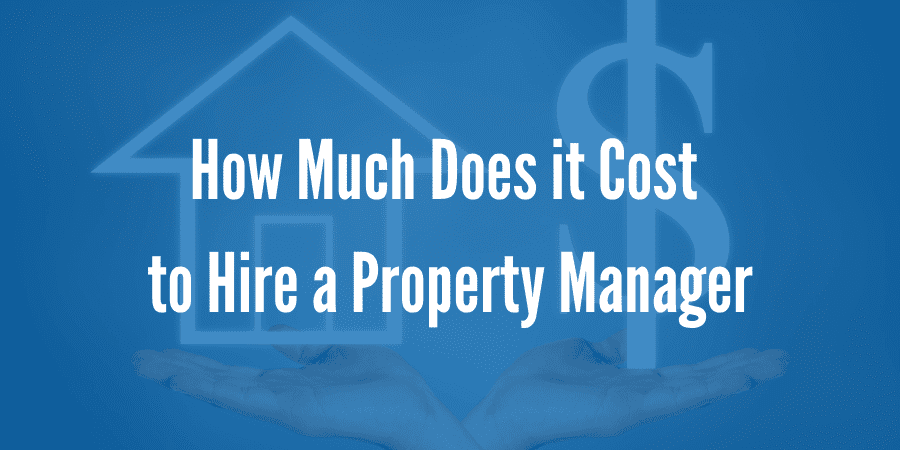 How Much Does it Cost for Property Management Near Seattle?
When it comes to the base monthly management fee, which typically covers regular services like handling rent collection, maintenance requests, and other tenant communications, Seattle property management companies charge, on average, about 10% of the monthly rent value for a residential property. This residential property management fee smack in the middle of national industry averages, which put typical property management fees in the range of 8% to 12%. Commercial property management fees generally range between 4% and 12%. Your commercial property management fee will vary based on numerous factors, including the size, location and condition of your property, how it is used, and the number and quality of tenants. Percentages can also vary based on the value of the property, so speak with a team member at each of the companies you are evaluating to discuss your specific real estate investment property in Seattle and obtain a more accurate estimate.
Additionally, companies may charge a flat monthly rate rather than a percentage-based rate. That structure can sometimes provide a good value, but a low monthly rate can also be deceiving if it comes accompanied with a gauntlet of hidden fees that add up to substantially more. It all depends on which property manager you choose to hire and what services they provide for their flat rate.
What Do Residential and Commercial Property Management Fees Cover?
At the end of the day, your property manager is being paid to ensure your Seattle property—whether it is commercial or residential—stays rented and is maintained. Additionally, they will evict disruptive or non-paying tenants. When it comes to specifics, however, services vary from company to company and based on the property management needs of individual clients.
For example, Powell Property Management is a full-service property management company for both residential and commercial properties, but there are many other service models out there. It's important to understand some of the common services offered by property managers and ask the right questions before choosing one to hire.
You also should ensure the firm possesses the knowledge and ability to successfully manage your particular type of property. While basic duties overlap for both residential and commercial property managers, certain skill sets differ, which can affect your costs for services. Commercial property managers must be more familiar with regulatory and insurance information that isn't necessary when managing apartment buildings and single-family homes. Commercial properties can also run the gamut from medical and law offices to industrial, retail, or restaurant spaces. Not every property management company has the right background and staff to meet the legal and physical needs of commercial tenants and conduct accurate risk assessment for commercial properties.
Common Property Management Company Fees
In addition to the base management fee, there are other property management costs that are fairly common. Depending on your property and the services you're using, you may only be charged some of them. Here is a common property management fee breakdown:
1. Leasing Fee
The leasing fee is something property managers charge for finding and placing a suitable tenant in a vacant unit. This process usually includes services like running background checks, prior eviction searches, financial verifications, and other tenant vetting services. Generally, the leasing fee is equal to about 50% of the first month's rent, although some companies may charge as low as 25% or as high as an 100% of the first month's rent.
2. Lease Renewal Fee
Property managers may charge a lease renewal fee each time the existing tenants renew their lease for the residential or commercial space. The fee is used to help cover the additional costs required to update, modify, and process a new lease. It takes time for the property management company to communicate with the tenants about any market-based rent changes, prepare and collect new lease documentation from tenants, and handle other miscellaneous tasks. A typical lease renewal fee is about $150 to $200.
3. Repair Funds
As with any inhabited space, regular maintenance and upkeep are vital. Management companies may ask property owners to provide reserve funds to cover the cost of minor maintenance and repairs. This way, managers don't need to contact you to get approval for each small repair. Your contract with the property management company should designate what constitutes a small repair, or how much the property management company can spend on a repair without first consulting you. It is typical to maintain a repair fund that is equivalent to about one month's rent for the space. If you decide to sell the property or switch property management companies, you should be refunded any unused amount if and when the agreement is terminated with the property manager.
Look for Value-Added Property Management
Most importantly, if you're considering hiring a property manager and you're looking for the lowest fee out there, be wary of hidden fees that can come with those too-good-to-be-true, super-low rates. Unfortunately, sometimes less-reputable companies have these unethical practices in place, which can prove more of a headache than a help for you. Learn to find the right property manager for you in 2020.
It's Not Just a Property, It's Your Property
Worried about the cost of hiring a property manager? The fees are worth the peace of mind knowing everything is under control when it comes to your commercial or residential real estate investment. A property manager can also get you more rental income for your property than you may be able to get yourself with extra amenities and an in-depth knowledge of the rental market.
At Powell Property Management, you can rest assured your property is in caring, honest, and experienced hands. Our company credo is that it is not just a property, it is your property. We are committed to seeing that you get the most out of it, and that has been our way since 1909 when our family business began. Get in touch with our team to learn about the property management fees for your single-family home, duplex, apartment, or commercial property.
You may also like: Common Fears of Hiring a Property Manager in Seattle