Real estate is both a valuable asset and a business endeavor. Whether you're dealing with single-family homes or multiple-unit apartment complexes, careful management is necessary to turn a profit on your investment. Our experience managing apartments spans over 100 years. Much has changed in the landscape of managing American apartments, but our expertise has evolved with the times.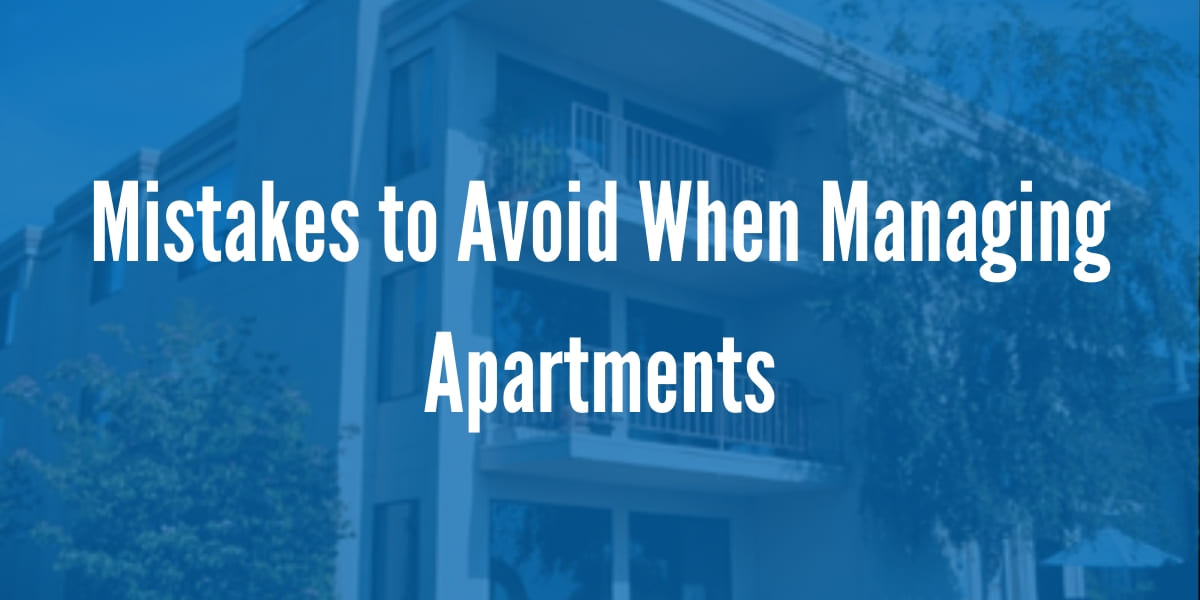 As with any business, poor management of your apartment complex can cost time, energy, and money. Luckily, many common issues are avoidable. Whether you double as the apartment manager for your property or choose to work with a residential property management company, you can control the quality of care dedicated to your properties and avoid unnecessary risks.
How to Manage Apartments
If you currently own an apartment complex or other rental property—or plan to enter the real estate game in 2022—here are a few critical mistakes to avoid as a property manager for apartments:
1. Skipping Regular Inspections
Inspections commonly fall within the duties of an apartment property manager, and they're critical. You shouldn't forgo regular inspections even if you're renting to responsible, long-term tenants. They allow you to detect minor issues early on before they result in extensive damage or high capital expenditures. Additionally, you should be monitoring your property's long-term condition and components. One strategy you can apply is establishing a system to review work orders by category. This allows you to see if any trends indicate a more extensive system failure.
2. Deferring Maintenance
You or your apartment property manager should also stay on top of maintenance, even though it can pose a significant expense. Deferring maintenance typically costs you more in the long run, negatively affecting property value. To help cover maintenance costs, retain a cash reserve fund that you contribute to consistently.
3. Personally Performing Repairs
Some landlords and apartment property managers try to save money on labor by personally handling maintenance and construction on their properties. However, these tasks must be completed quickly, whether the properties are rented or vacant. You can lose money by leaving properties empty while you work on repairs or inconvenience your tenants by delaying maintenance. Unless you can handle the projects quickly and efficiently, hiring professionals is often more cost-effective.
4. Allowing Tenants to do Repairs
Certain maintenance jobs are simple: Re-grouting a bathtub, changing a smoke alarm, or touching up paint. However, some landlords allow their tenants to make more extensive repairs in exchange for decreased rent, which can be risky. Unless you have adequate workers' compensation insurance to cover their labor, you could be responsible if your tenant is involved in an accident and suffers a serious injury while repairing your property.
5. Mishandling Complaints
The first step to avoiding issues with addressing and handling tenant complaints is clearly stating who is responsible for what in your lease agreement. The apartment building manager should communicate the tenant's responsibility for maintaining a clean rental unit, paying for damages caused by abuse or neglect, and alerting management of any defective or dangerous situations on the property, such as mold, fire hazards, faulty wiring, or water leaks. The lease agreement should state your official policy and procedure for addressing repair requests and complaints. When crafting these policies, it's essential to review state and federal housing laws. Meanwhile, when tenants report issues to you or your apartment manager, respond quickly and deal with major concerns, such as heating/cooling problems or plumbing leaks, within 24 hours.
6. Dealing Consistently and Legally with Tenants
If you need to fine a tenant, evict them, or impose another penalty, you must be consistent in following the policies and procedures you originally communicated to them. It's also important that your actions align with local, state, and federal landlord-tenant and anti-discrimination laws and regulations. These can change, especially relative to COVID-19 legislation, so stay up to date on what applies to you and your properties and how to align your management practices with current laws. If you fail to comply, you could face fines or lawsuits, even if you aren't acting as resident manager.
7. Missing Marketing Opportunities
Vacancies are bad for business, but so are high turnover rates and irresponsible tenants. As you set goals for 2022, focus on filling your rental properties quickly, efficiently, and with high-quality tenants who will follow the rules and care for their units. You have numerous options for advertising and marketing openings across a variety of platforms. Find the right tools and marketing solutions to reach your optimal demographic and provide an easy, convenient way for them to submit an online application for an apartment unit or single-family home. Vet your applicants with interviews and background checks. You can also review public records to uncover if the prospective tenant has previously appeared in landlord/tenant court. If they have frequent interaction with the system, they could present a future management issue.
Finding an Apartment Building Manager
The management of apartment buildings, single-family homes, and other residential properties must be conducted efficiently and professionally to optimize your real estate investment. If you want assistance with your properties in Burien or the greater South Puget Sound area, Powell Property Management is the solution. We have established decades of experience working with landlords and providing them valuable services to manage, market, and maintain their investment properties.
Sources
"Apartment Building Management Tips." BiggerPockets blog post. Accessed online at https://www.biggerpockets.com/blog/2008-06-02-apartment-building-management-tips
"What Are the Duties of a Resident Manager of an Apartment Complex?" Career Trend article. Accessed online at https://careertrend.com/duties-resident-manager-apartment-complex-5616.html
"7 Mistakes of the Newbie Apartment Building Investor." BiggerPockets blog post. Accessed online at https://www.biggerpockets.com/blog/2014-03-31-mistakes-newbie-apartment-building-investor
"7 MISTAKES NEVER TO MAKE WHEN BUYING AN APARTMENT BUILDING." 100Units.com Post. Accessed online at https://www.100units.com/7-avoidable-mistakes-buying-apartment-building/
"6 Common Property Management Mistakes." American Apartment Owners Association. Accessed online at https://www.american-apartment-owners-association.org/property-management/remodel-and-repair/6-common-property-management-mistakes/
"Nine Costly Mistakes Property Managers Can Avoid Making." Forbes Magazine. Accessed online at https://www.forbes.com/sites/forbesrealestatecouncil/2019/06/14/nine-costly-mistakes-property-managers-can-avoid-making/#3dc299f5128b