Demand for apartments in Seattle has increased over the past decade and is expected to stay strong in 2020, but that doesn't automatically translate into you achieving high occupancy rates at your apartment buildings.
It requires strategic methods and processes to capitalize on the high demand in the Seattle apartment market and translate the need for rental units into low vacancies at your investment properties. (This can be especially tough for new apartment investors.)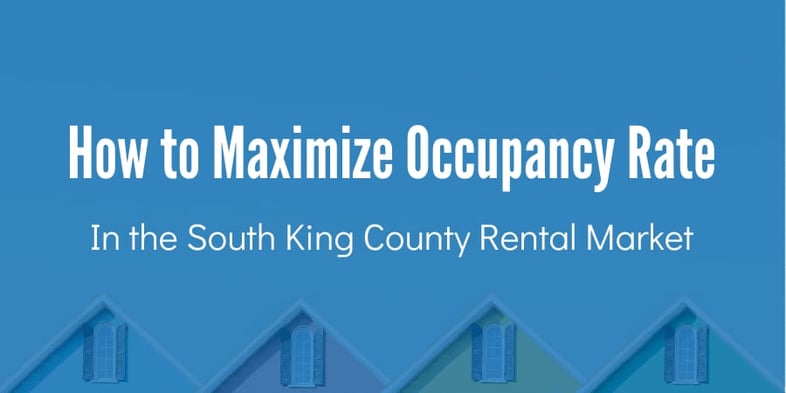 Achieving Maximum Occupancy Rates
The average apartment occupancy rate in the U.S. is slightly above 96 percent, and trends in Seattle mimic the national numbers. For an apartment vacancy rate—which is easily calculated by multiplying the number of vacant units in your building by 100 and then dividing that by the total number of units—anything around or less than 4 percent is considered low. Those are the types of occupancy and vacancy rates you should be chasing if you want a high return on your real estate investment. If you're not achieving them, here are a few ways you or your Seattle property management company can keep your apartment building filled:
1. Diverse and Dedicated Marketing
It's no surprise effective marketing and advertising are key to getting new residents into your open apartments. A robust marketing strategy utilizes both digital platforms, including social media, as well as outreach events, networking, and using traditional mediums, like newspaper listings, if they're appropriate for your target audience. Make sure you keep website listings up to date and maintain a database of potential tenants to send "quick availability" emails to them when you get new vacancies.
2. Quickly Turning a Vacant Apartment
When current tenants leave your building, you need to quickly turn over their apartment to minimize vacant time. Schedule vendors in advance, or as soon as you get notice from the existing occupant, so you are prepared to do a deep clean, re-carpet, touch up paint, and any other necessary tasks as soon as the unit is empty.
3. Pre-Leasing Apartments
Another way to improve your occupancy rate, especially if you're preparing to open a new apartment complex, is to pre-lease the units. Pre-leasing allows you to line up prospective tenants before the units are available, or have turned, which both enables the renter to move in as soon as their unit is open and decreases your vacancy rate. You then use their pre-lease deposit as their security deposit or part of their first month's rent.
4. Showing Multiple Properties
When you have a prospective tenant interested in leasing an apartment from you, consider showing them multiple properties at once while you have their attention. This increases the possibility they will see something they like. Especially if your investment properties are located close to one another, offering a tour of multiple complexes at one time is an efficient way to acquire new tenants.
5. Offering an Efficient Application Process
Another tip for improving your occupancy rate is to make your application process simple and accessible. That doesn't mean not running background checks, doing reference checks, or thoroughly vetting prospective tenants. However, different people prefer different methods of applying. Some may prefer filling out a paper version of an application, while others prefer to do everything digitally. Make both options available and let prospective tenants use one application for vacant units at multiple properties.
6. Taking Care of Current Tenants
Maintaining a low vacancy rate at your apartment building is not just about acquiring new tenants quickly and efficiently but also retaining the ones you have. Make sure you, or your property management company on your behalf, are properly nurturing the landlord tenant relationship. Respond to your tenants' concerns in a timely manner, offer multiple lines of communication, and give your tenants adequate notice of any major changes happening at your investment property or in the neighborhood.
Relying on Your Property Management Team
Cultivating a good relationship with prospective and existing tenants and maintaining a low vacancy rate at your apartment building require diligent attention and a significant time investment. However, those are critical goals to achieve for you to make money off your real estate investment in Seattle. If you could use a dedicated team to handle marketing, vetting applications, responding to maintenance requests, and taking care of your tenants, consider partnering with a property management team. Powell Property Management utilizes a diverse strategy for maintaining high occupancy rates and has the skills and resources to carefully manage your apartment complex.