Looking for a great place to bring your out-of-town guests, host a happy hour with your colleagues, or just grab a bite with friends? Des Moines, Washington has several local gems that offer unique dining experiences, so there really is something for everyone. Whether you're craving some fresh local seafood, looking for quick and tasty takeout, or just need some good old comfort food, you can find it right here in Des Moines, WA. Here are the best local restaurants you won't want to miss:

The Best Mexican Restaurants in Des Moines, WA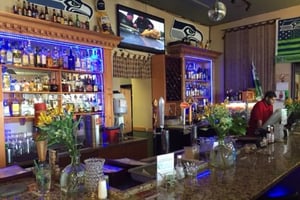 Arturo's Mexican Restaurant
22204 Marine View Drive South, Des Moines, WA | 206–824–1155 | Website
Arturo's is a local family-owned and operated restaurant serving authentic, fresh Mexican staples like fajitas and enchiladas in a relaxed, unfussy space. Locals especially love Arturo's for its tasty, moderately priced menu featuring traditional family recipes and unique takes on classic Mexican dishes—plus great happy hour specials and weekly live music.
Viva Mexico
26015 Pacific Hwy S, Des Moines, WA | 253-839-1903 | View on Google
Viva Mexico is a local chain that serves a menu of classic Mexican dishes, including burritos, tacos, chile rellenos, enchiladas, fajitas, and quesadillas. The dishes blend traditional authentic flavors with hearty portions and clean plating in a relaxed, traditional setting. Additionally, you can catch Happy Hour from 2 to 5 p.m. every Monday through Wednesday.
Cemitas Tepeaca 2
21624 Pacific Highway South, Des Moines, WA | 206-878-8202 | View on Google
Whether you desire a namesake cemitas—available in nine varieties all featuring homemade rolls—or other well-known Mexican dishes, you can find them at Cemitas Tepeaca 2, a casual restaurant tucked away in a strip mall on Highway 99. You can dine in or take your food to go, or if you're staying in for the night, you can opt for delivery.
The Best Chinese Restaurants in Des Moines, WA
Dragon Gate Restaurant
22315 Marine View Drive South, Des Moines, WA | 206-878-7481 | Website
At Dragon Gate Restaurant, you can find traditional Cantonese, Szechwan, and Mandarin cuisine in ample portions. The restaurant is the perfect setting to dine with a large group or as a family. They also have a considerable selection of lunch specials for about $10 or less that are available from 11 a.m. to 3 p.m.
Yummy Chinese
22228 Pacific Hwy S, Des Moines, WA | 206-651-7368 | Website
As the name denotes, Yummy Chinese, established in 2019, offers tasty on-site dining and takeout to Des Moines, WA. The restaurant, which is open for lunch and dinner every day except Wednesdays, is known for its modern interpretation of classic dishes created using high-quality, fresh ingredients.
Mandarin Kitchen
22612 7th Avenue South, Des Moines, WA | 206-878-8511 | Website
This family-owned and operated restaurant is one of the best local spots for Chinese food in Des Moines, WA. Well-known by locals for its friendly and attentive service, as well as a diverse and tasty menu offering Hunan, Szechwan, Mandarin, and Cantonese classics, plus house specialties. Stop by for their excellent lunch specials, dine-in for a casual family dinner, or call for a quick and satisfying take-out meal.
Other Top Notch Restaurants in Des Moines, WA
Not everyone is as keen on Chinese and Mexican cuisine as we are, so for those of you who prefer a different dish, check out these local American and Seafood style restaurants in the area.
Wally's Chowder House Broiler
22531 Marine View Drive South, Des Moines, WA | 206-878-8140 | Website
This unique Northwest seafood restaurant overlooks the Puget Sound. The menu features local seafood catches, award-winning New England-style clam chowder, fish and chips, and more. Be sure to try their wild caught seafood, juicy burgers, and homemade desserts too. The selections are practically endless, and you'll be treated like family.
Auntie Irene's
22504 Marine View Drive South, Des Moines, WA | 206-824-0249 | Website
Auntie Irene's is the perfect spot to grab a quick bite for lunch, a cup of coffee, or a sweet treat. This family owned shop offers a wide selection of soups, sandwiches, pastries, and beverages, including coffee, tea, milkshakes, and smoothies. They are open early every day of the week, and you can use the drive-thru, enjoy deck seating with a view of the Puget Sound, or take a cozy seat inside.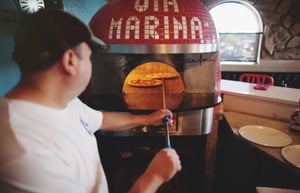 via Marina Wood Fired Pizza & Italian Cafe
22636 Marine View Drive South, Des Moines, WA | 206-592-2659 | Website
If you're looking for great Italian food in Des Moines, WA, check out via Marina. Known by locals for its classic Italian dishes and authentic Neapolitan pizzas cooked in an imported wood-fired oven. The atmosphere is warm and welcoming, and the staff is friendly and helpful. They also offer a full bar with classic and specialty cocktails, an extensive Italian wine list, and local microbrews.
Anthony's HomePort Des Moines
421 South 227th Street, Des Moines, WA | 206-824-1947 | Website
This Pacific Northwest–based chain is a great waterfront restaurant for locals to gather, celebrate special occasions, or bring out-of-town guests. Enjoy stunning views of the Puget Sound and excellent service in a warm, peaceful atmosphere at this regional favorite for seafood and more. The menu features fresh local catches, as well as quality steak cooked to order for those who are not seafood lovers—plus a great selection of regional wine and beer.
NEW 55+ Living Homes for Rent at Parkview in West Seattle
Renting vs. Selling Your House: The Pros and Cons
Is Seattle a Good Place to Invest in Real Estate in 2020?