The Pacific Northwest is known for some of the best golf courses on the west coast, with gorgeous views, golf courses designed by some of the greats, and clubhouse amenities that feel like a luxury vacation. Live the good life and enjoy the best greens and country clubs the South Seattle area has to offer. Whether you're an avid golfer, a beginner, or desire to experience the exclusivity of the finest country clubs in the area, we have insight into the four best country clubs you should know about in the Seattle area.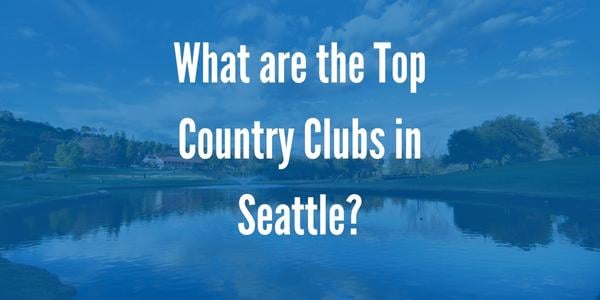 Glendale Country Club2
Glendale Country Club began in 1925, but was located in South Seattle and moved to Bellevue in the late 1950s and was designed by Al Smith. Glendale is a fully member-owned private club with three main membership levels: proprietary, associate, and social. Enjoy excellent dining in the stately dining room, special events, a gorgeous pool with plenty of lounging, and, of course, a highly regarded 18-hole golf course. Inquire with the club about membership, which usually boasts a waiting list.
Glendale's beautiful and perfectly-manicured course is both challenging but friendly for all levels. The course offers a generous 6,663 yards of play with a slope rating of 138 with several tee options, making it an exciting and fun course for anyone. The championship 18-hole course has been host to 11 State Opens and numerous other events.
Improve your game with instruction from PGA professionals as your guide. Member events and tournaments add a social aspect to the respected game. Glendale also features a covered driving range, practice green, and a 60-yard short game practice area. Glendale Country Club also enjoys being a golf industry leader in environmental stewardship and has even been recognized as an Audubon Sanctuary Property.
Glendale's golf course is the crown jewel of the club, but you'll find a luxurious respite near the pool or in the dining room. Enjoy fine dining options as well as a breakfast that will satisfy every craving and lighter lunch options, perfect for between activities.
Tacoma Country & Golf Club
If you're looking for a great golf course with more clubhouse amenities, Tacoma Country & Golf Club is your perfect respite. It's the oldest golf course in the PNW, founded in 1894. Its humble beginnings as a pasture, that served a small club of men and women before the golden era of golf, and it has slowly been built into a first-class private club with a championship layout of more than 6,945 yards from the back tees. The acclaimed 18-hole course is challenging and fun. The golf practice includes a full-length driving range, a covered teaching center, a putting green, and a chipping green. There are eight different levels of membership. To learn about each, reach out to the club.
Tacoma Country & Golf Club offers plenty of recreation and social opportunities off of the course as well. The competition-size pool, a wading pool for children, and a hot tub offer several ways to unwind. You could also enjoy a dip in the American Lake off of the private swimming dock surrounded by serene views. Tennis courts, a fitness center, and various dining opportunities allow for even more interaction with other members, time with family, and a feeling of getting away from it all. There are plenty of programs and private lessons for tennis and golf, as well as personal trainers and fitness classes, including a Sit & Fit class.
As for dining options, The 1894 Grill features fresh local ingredients that revolve around the seasons. Outdoor dining is also available to enjoy the beautiful views of American Lake and the spectacular PNW. For a spot to gather with friends, the 1894 Bar provides full service.
Meridian Valley Country Club
The Meridian Valley Country Club is a first-class golfing haven with excellent views of Mount Rainier and encompasses Soos Creek. The club is known for its warm and welcoming atmosphere and members. The 18-hole championship golf course offers dry year-round play with the latest in irrigation and drainage. Ted Robinson was tasked with searching for the perfect site and then designed the course, with the opening to members in 1967. Through the years, the course and clubhouse have undergone extensive renovations and improvements as the popularity of the club grew and new technology became available.
The club is outfitted with a state-of-the-art Golf Lab, with club fitting, and About Golf Simulator. In the clubhouse, you'll also find a fitness facility and superb dining. Enjoy golf events for members, a great community of golf enthusiasts, and social events.
The Meridian Valley Country Club hosted the SAFECO Classic for 18 years as well as several Washington State Opens. Big names in golf, such as Jack Nicklaus, Arnold Palmer, Patty Sheehan, and Nancy Lopez had played the course several times. Tall evergreens line the perfectly manicured course for a fun but challenging game with 6,652 yards from the tips and four tee choices.

You'll also find an expansive 280-yard driving range, two practice putting greens, and sand bunkers. To inquire about their different membership levels, contact Meridian Valley Country Club.
Rainier Golf & Country Club
Rainier Golf and Country Club is a member-focused club that has worked for 100 years to build a club experience that brings guests a sense of pride while offering spectacular views of the great mountain. The Rainier Club was founded in 1912 and the first nine was accessible to members by 1920, designed by Robert Johnstone. Later through the years, Arthur Vernon Macon designed the second nine and eventually redesigned the first.
What's been described as a "golfer's course" and the "driest course around" includes a layout that's challenging, with majestic trees, a state-of-the-art drying program, a waterfall, ponds, numerous bunkers, and 6,337 yards of play with a slope rated 133. With lessons using the latest technology and equipment fittings, you can improve your game and take your skills out onto the practice green. The club also offers the best locker room facilities, as well as storage to complete your experience.
The Club has gone to great lengths to meet the needs of the guests and continues to, by expanding the spacious and luxurious French-style clubhouse to include dining, a pool, two large greens, a short game facility, and a large terrace for taking in the sights. The clubhouse also includes a game room, lounge, billiards, and a bar, which is a popular hang-out spot.
Rainier Golf & Country Club hosts holiday events, social events, tournaments, and dozens of other golf events. The club also allows the grandchildren of members to enjoy the pool and Junior Golf program. To request a tour and pricing, contact Rainier Golf & Country Club.
Envision a Future with More Time for You
Invest in your future as well as your financial portfolio by making room for more time to enjoy a life of dining, golfing, and spending time with friends and family. Your real estate investments shouldn't steal time from the recreation you love. Allow Powell Property Management to handle the day-to-day maintenance, communication, financial services, leasing, and marketing so you can get back to enjoying life as it's meant to be enjoyed.
Powell Property Management has been caring for investors' properties in the Burien, Washington area for over 100 years with care and dedication. Contact us to learn more about our services and how you can make more time to invest in your quality of life.