Everyone wants the best experience for their children at school. Finding the perfect fit is different for every family. We know our way around the neighborhoods! Powell Property Management has been in business in the area for more than one hundred years, and we delight in matching a client with their perfect new rental home. We understand what a significant part school districts play in the decision process for families, so we're uniquely positioned to advise families across the area on the subject.
Residents of South King County are fortunate that the area offers stellar public schools. The greater Seattle area is home to some of the best schools in Washington state. There are truly no poor options. While public schools generally offer PreK-12 services, private school grade level offerings are more variable.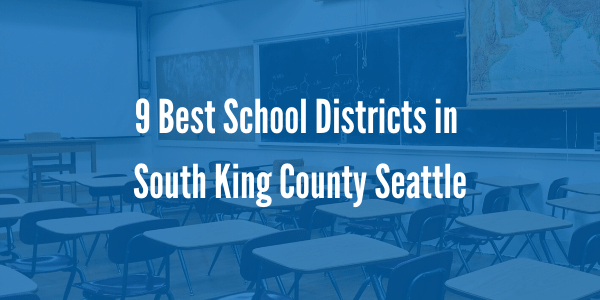 If you're new to the area or unsure about the school district boundaries in King county, head here to view a school district map.
Best Private Schools in South King County
Grade Levels: K-12
Location: Renton, WA
Highlights: Renton Prep Christian Schools is the first K-12 school certified as a Microsoft Flagship School Participant and Coga STEM certification. It emphasizes STEM and strong academics with Christ-centered and character education.
Grade Levels: 9-12
District Size: 260-acre campus, 120 boarding students, 120 village students
Location: Auburn, WA
Highlights: This storied Christian high school presents an idyllic and intimate learning environment that has nurtured more than 7,500 successful people since 1919.
Grade Levels: 4-12
Location: Renton, WA
Highlights: New Horizon focuses on small class sizes and specializes in supporting students with learning differences such as ADHD, autism, or learning disabilities. New Horizon offers a Thrive program, which helps adult students with diverse learning needs in the transition to adulthood.
Best Public Schools in South King County
Grade Levels: Pre-12
District Size: 23,000 plus students in 37 schools over 35 square miles
Location: Federal Way, WA
Highlights: Federal Way leads the region in graduation rates. It has lighthouse STEAM/STEM schools and is rapidly expanding its science and tech emphasis. Federal Way also hosts a wide range of arts-centered education programs, such as a thriving theatre and arts program.
Grade Levels: PreK-12 (and 18-21 transition assistance)
District Size: 62 square miles, 23 schools
Location: Auburn, Algona Pacific, Lake Tapps (Southern King County and Northern Pierce County)
Highlights: Auburn offers stellar online options and emphasizes high standards. They are a rapidly-growing, opening three new schools and completely remodeling two more.
District Size: 3,000 students over 5 schools
Location: Tukwila, WA
Highlights::Tukwila is a small community in south Seattle. This district boasts small class sizes and strong community ties.
District Size: 15,000 students over 32.5 square miles in 23 schools
Location: Renton, WA
Highlights: Renton emphasizes their ties to the tech community, influencing its educational practice. Renton is growing steadily and has recently opened two new buildings.
District Size:25,700 students over 72 square miles in 42 builds
Location: Kent, WA and surrounding neighborhoods
Highlights: Kent is a booming district that leverages its size and resources into tangible outcomes for its students, boasting a host of niche programs and an impressive graduation rate. Grade 6-12 online programs for this past school year have been extremely popular in the district.
District Size: 17,500 students in 35 buildings
Location: Des Moines, Burien, Normandy Park, SeaTac, and White Center, WA
Highlights: Highline offers K-12 online education and offers a wide range of impressive technology, arts, and athletic opportunities.
Can I attend a school district in Washington state if I live in another district?
Wondering about the school of choice rules in Washington state? There are many reasons residents of King County might be interested in attending school outside the public district in which they reside. Renters who move choose to continue in the district their children currently attend. A niche program or district strength is a better fit next door. Whatever the reason, here are a few things you need to know if you're interested in attending a specific district and living somewhere else:
Every school district has its policy, timelines, and forms to apply for school of choice attendance. Your best bet is to call the administration office at the district you hope to attend if their process isn't clear online.
You will need to provide transportation to an elective non-resident school.
This

user-friendly guide from the state of Washington

gives more information and details if you have more questions.
Some districts have a more limited school of choice availability than others. Prepare yourself to pursue your second choice if your first isn't available.
Some districts, sometimes called option schools, offer continuous enrollment. Seattle has only a few option schools.


South Sound Neighborhood Experts
If you're looking for the perfect place in Federal Way, Auburn, Burien, Normandy Park, and Des Moines, we'd love to show you around our portfolio of excellent properties. If you're interested in making the most of your valuable time, consider partnering with a property manager. We'd be pleased to leverage our expertise to find and keep great tenants and keep your investment profitable. If you're not sold yet, check out our reviews here! Give us a call today at 206.824.3733 or Reach out online!