Rental properties make excellent additions to any investment portfolio. A quality tenant is worth their weight in gold as they will respect the property, abide by the rules, and pay their rent on time. However, finding the best tenants isn't a one-way street. If a tenant is not treated with respect or taken care of, they will leave and find another landlord who understands the importance of excellent renters and keeping them happy. But how exactly can you keep a tenant happy, or even attract them to your rental property? Here are ways to avoid the dreaded housing turnover and find the ideal tenant.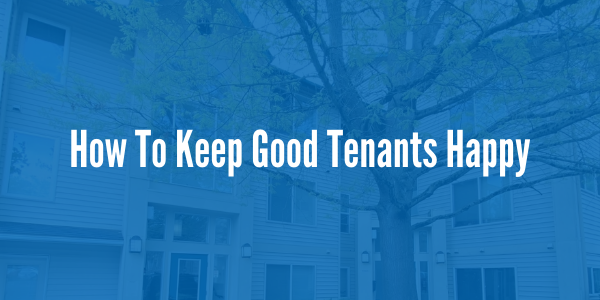 Make Timely Repairs
When a tenant has an issue with the property wherein something has been damaged, make sure to repair it as quickly as possible. For example, don't wait weeks to repair things like their HVAC, stove, or fridge as these things can cost tenants more money in the long run if not repaired promptly - e.g. a broken fridge can cost your tenant hundreds of dollars in lost food. One of the biggest reasons why tenants leave is because landlords fail to maintain the property. Stay on top of your repairs, and you'll have more long-term rentals.
Don't Price Gouge Security Deposits
Most renters have horror stories of landlords who nickel and dime them regarding their security deposits. Whether it's a hundred-dollar stove-top cleaning fee or charging to repair carpets that will be replaced anyway, tenants usually have a good idea of when they are getting taken advantage of. While this won't go far in helping you retain current tenants, it may hinder your ability to bring in new tenants who might be expecting the worst.
Be Easy To Contact
There's little so frustrating as a landlord who refuses to return calls or answer emails. Tenants will generally not contact a landlord unless there is some kind of damage to the property, or if they have a property-specific question. This means that landlords should be easily available. If a tenant is unable to connect with a landlord, they will likely decide to go elsewhere when their lease is up in order to find a more communicative landlord.
Deal With Problems
Nobody likes confrontation. Ideally, it can be avoided, but this is rarely the case as eventually, tenants will disrupt other tenants, and problems will arise. In some instances, the so-called disruptive tenant may very well be making too much noise or causing other problems inside the community. When reported, this needs to be looked into and addressed immediately. If this is not dealt with right away the good tenant who lodged the complaint will assume that you're avoiding your responsibilities. Consequently, failure to deal with the problem tenants is more likely to lead to the good tenant's departure.
On the other hand, some tenants will report noise problems if their neighbor sneezes or opens their front door wrong. These "problem" tenants might not be doing anything wrong at all, which is why looking into the situation and discussing the issues with all tenants involved should be a top priority.
Don't Welcome Yourself To Their Apartment
Chances are there is a section within the rental agreement allowing the landlord access to the rental property, as long as notice is given ahead of time. Always let the tenant know the planned time of arrival and length of stay with plenty of notice - do not arrive unannounced or unexpectedly. This allows the tenant to plan accordingly and creates a stronger sense of security in their home. Make sure the tenants understand the ins and outs of their lease and the property in order to help them feel more at home.
Careful With Rent Increases
Most tenants understand that rent will likely increase about once a year, and will be expecting this. However, keep the rent increase minimal. If a tenant sees their rental price jumping 20 percent year after year they will start to look elsewhere for a property more aligned with their budget.
Additionally, consider looking for ways to extend leases for tenants while lowering the prices. One of the best ways to do this is to offer discounted rental prices for tenants who sign on for longer terms. For example, landlords might give a $50/month discount for a tenant that signs on for 18 months. This keeps good tenants longer while also allowing them to save money. It's a win-win!
It Starts With Excellent Property Management
A property management company will handle all the grunt work required to keep good tenants happy. They will address repair concerns and make sure questions are answered in a timely fashion. Call Powell Property Management to help stay on top of these issues and strengthen your ability to care for quality tenants. We'll go over your property portfolio and provide you with a number of options and opportunities to enhance your current renter and rentee relationship.