Adding value to an investment property is different from adding value to a private home. The value-adding strategy you employ must be more heavily researched and less risky. Luckily, there are several proven ways to add value to your apartment complex that potential tenants will find enticing and set you apart from your competition. Attract excellent tenants that recognize the value and look for apartments that offer a higher quality of living.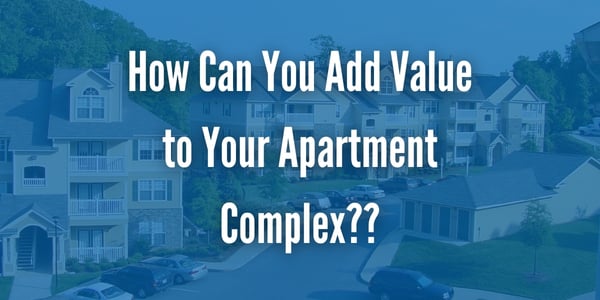 1. Update Interior Finishes
Updating the interior of your apartment complex is a common go-to for adding value. Dated finishes in the lobby, common areas, hallways, and individual apartments will give a visiting potential tenant the expectation of lower rent prices. Fresh paint alone improves the feel of a space. Other interior updates that tend to have a higher ROI are newer black or stainless steel appliances, luxury vinyl tile flooring, updated LED lighting fixtures, new plumbing fixtures, resurfacing the bathtub, and re-grouting or deep cleaning tile grout.
Many of these updates are minimal, except for the flooring update. However, replacing the flooring with luxury vinyl tile or ceramic tile can fetch $50 to $100 more per tenant per month. It's important to note that the new flooring you choose is a big factor. Choosing carpet, for example, won't likely garner this increase as hard flooring would.
As for common areas, such as hallways, stairwells, doorways, and the lobby, update lighting fixtures, flooring, and paint. If common areas are poorly lit, consider installing more frequent lighting fixtures where needed.
2. Improve Curb Appeal
Your apartment building's curb appeal can go a long way in communicating to potential tenants what they can expect in the value of each rental unit. An aged façade will communicate old finishes and dated amenities. On the other hand, a freshly painted exterior with tasteful landscaping and a welcoming entrance will communicate a well-cared-for and clean rental unit.
3. Install Washers and Dryers
Installing a washer and dryer in a unit may seem like a large upfront investment, however, these amenities can increase your rental price by an incredible 20%. Appliances like washers and dryers are within the top desired property amenities and will get the attention of tenants many apartment owners hope to attract. In-unit washers and dryers also satisfy other top characteristics tenants are looking for, such as safety and convenience.
If installing individual washers and dryers isn't an option due to the layout and the investment of plumbing and electricity routing, a communal laundromat in the building is better than no facility at all. Raising the rental price for unlimited use or charging a monthly fee are some ways that property owners have covered the cost of these upgrades.
4. Improved and Exclusive Parking
Parking is another highly valued amenity by tenants. The condition of the parking lot is related to the curb appeal aspect when making a good first impression. Cracks, potholes, and poorly done patchwork should be remedied by resurfacing your lot. Of course, the number of parking spots and ensuring each unit has a minimum of one space is important. For additional spaces per unit, consider charging a monthly fee.
Covered parking is considered a premium, and some tenants would consider paying more per month for this convenience. The same goes for closer parking spots. Adding a parking garage is a large upfront investment but could raise your rental prices, paying for the expense over time.
In addition to the condition of the parking lot, sufficient lighting is a necessity. As mentioned, safety is a concern for many renters, and a poorly lit parking lot will put off good tenants. Use LED lighting to reduce the frequency your maintenance crew will need to tend to changing out lightbulbs and use up to 90% less electricity, reducing your costs.
5. Storage Units
Apartments aren't known for having enough storage for tenants, and it's often something tenants report wanting more of. Having on-site storage units available for a monthly fee will resolve this issue and require low maintenance and overhead. You will increase the value of your apartment complex and resolve many tenants' needs.
6. Amenities for Pets
If you're one of many property owners that allow pets, offering special amenities would be very appealing to potential tenants. Of course, charging a fee for pets is common, but also consider a scaled pricing system that is based on the number and size of a tenant's pet. For added convenience and to justify a higher fee, you could offer a designated dog area outdoors. Many pet owners would view this as a very valuable commodity and are also willing to pay a higher rent. The addition of a dog park on the property would also make your apartment complex competitive when tenants are considering their options.
7. Add a Fitness Center
Many people today pay premiums for gym memberships but this also includes the burden of a commute. With a fitness center available in the apartment building, you're offering tenants convenience while gaining the advantage of another avenue for income. Fitness center access can be gained by including the amenity with higher rent or a monthly fee. However, to entice renters to pay a separate fee, the equipment and added features will need to compete with local gyms. Consider having a variety of equipment for different needs, televisions, and separate rooms for weightlifting, yoga, and other equipment, like treadmills, stationary bikes, and the like.
8. Smart Technology
Adding smart features to apartment units is becoming more common, therefore, expected. This is particularly true for more desirable tenants. Smart thermostats, keyless locks, and security systems are a few of the more common tech amenities. Of course, the demographics of your tenants will factor into the addition of this amenity. Younger generations are more likely to look for tech upgrades in apartments while older tenants aren't.
9. Business Center
As more people work from home, having a space to go to outside of their apartment is seen as a necessary amenity. Like gym memberships, coworking spaces that charge a daily, weekly, or monthly fee are popping up in more cities across the country. By offering a business center with wireless access, individual and communal desks, coffee and snacks, and privacy partitions, you're offering tenants a service that they might seek elsewhere.
10. Special Event Spaces
Add additional spaces of varying sizes for special events, such as rec rooms and media rooms. To decide what type of space would get the most use, consider your tenant's demographics. For families with young children, having space for birthday parties would be a valuable addition. A rentable space with an outdoor patio offers even more potential. A rental fee would also include a cleaning fee and cover periodic maintenance.
11. Conservation Features
Many tenants today value features that reduce utility costs. Shower heads, toilets, and faucets designed to save water consumption, LED light fixtures, and energy-efficient appliances are desired amenities. Features that conserve resources like electricity and water can save tenants and property owners up to 40% in costs.
12. Hire a 24/7 Maintenance Team
Tenants want to feel assured that their needs will be met. Offering a trusted maintenance team around the clock shows tenants that you value their experience and the condition of your property with fast response times. Address broken appliances, door lock issues, and many other circumstances with an on-call team that will care for your investment and will attract desirable tenants.

Powell Property Management has managed rental properties for over an impressive 100 years. With 24/7 availability to address needs the next business day, or immediately in urgent cases, you will gain peace of mind knowing your property is astutely cared for and your tenants will be happy. Reach out to Powell Property Management to learn more about our full suite of extensive services and what property management can do for you and your important investments.