As a landlord in Seattle, one of your top goals is likely to maximize your occupancy rates. After all, your real estate investments aren't worthwhile if they sit empty.
However, you don't want to rush the tenant acquisition process to the point that you are sacrificing the quality of your renters. In Washington state, it can be difficult to evict troublesome tenants, and legislation related to COVID-19 has placed further restrictions on evictions.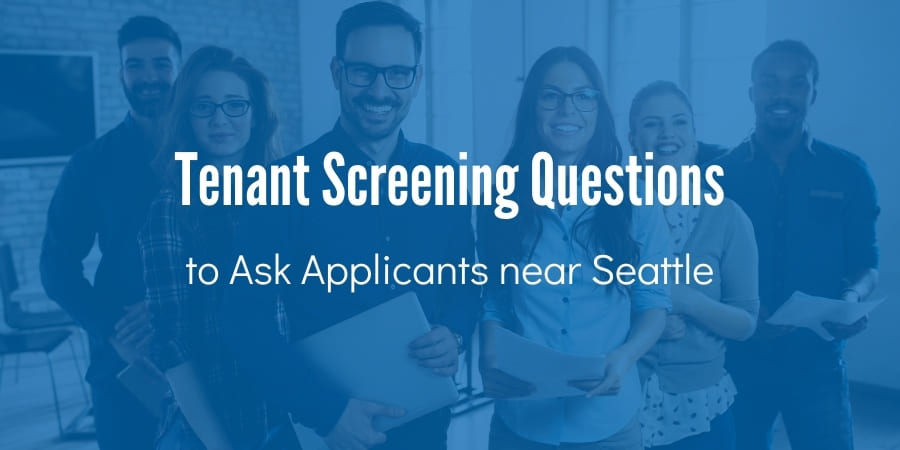 The people you choose as tenants will impact whether your investment properties in Seattle are well-maintained over the years or treated poorly. Therefore, when vetting prospective tenants, it's important you think of them as business partners and put a greater emphasis on tenant screening.
Questions to Ask Potential Renters
Every landlord is required by law to develop rental criteria and distribute said criteria to applicants. This is a printed document that identifies what your requirements are for leasing to new tenants, and should include:
Rent and deposit(s)
Maximum allowable occupancy
Credit expectations
Type of background check required
Rental and payment history
Smoking and pet policy
Here are a few questions to ask prospective tenants that should be answered by reviewing the rental criteria and the tenants rental application:
What date do you want to move in?

Are you comfortable committing to a (six-month, one-year, etc.) lease?

Are you currently employed?

What is your average monthly income?

Can you pay the move-in costs (including security deposit, first/last month rent, and other fees) upon signing the lease?

How long have you lived in your current apartment/home, and why are you looking to move?

Do you understand our pet policy?
How many people will be living in the unit? Don't ask how many children the applicant has, as this could be interpreted as potential discrimination against familial status.

Can you pass a background and credit check as outlined in the rental criteria?

Have you ever been evicted here or in another state?

Have you ever broken a rental agreement? Ask them to elaborate.
Do you agree to follow our non-smoking policy?
Questions to Ask Tenant References
In addition to speaking with each applicant individually, you should also ask them for a couple professional and personal references, such as past landlords, employers, and friends or housemates. Here are a few questions to consider depending on whom you're speaking to:
Questions to Ask Previous Landlords
How much was monthly rent?

Was rent paid on time?

Did you have to issue any 10-day notices? If so, how many?

How well did the tenant communicate to you about maintenance issues, their intention to move out, and other relevant topics?

What was the condition of the property upon move-out?

Would you rent to this tenant again?
Questions to Ask Current/Previous Employers
Confirm the applicant is employed with company; what was their official date-of-hire?

How many hours per week does the applicant work?

Confirm the salary provided by tenant on application (if provided) is accurate.

How long have you known the tenant?

Would you recommend this person to a landlord?
Protecting Your Real Estate Investments in the South Puget Sound Area
Tenant screening is vital, but keep in mind that different municipalities in Washington State have different rules on what you can and can't screen for. Additionally, current events and legislation can affect the tenant acquisition and eviction process temporarily or long-term. As a busy landlord, it may be difficult to stay on top of these evolutions, as well as ensuring you vet each applicant thoroughly. That's where Powell Property Management can be of assistance. We serve neighborhoods from Seattle to Federal Way and Auburn and already have established screening procedures to help you find the best tenants for your investment properties.