With the current high demand for housing in the greater Seattle area, the urge to sell off unoccupied or investment properties in 2022 is completely understandable. That said, there continue to be both long and short-term benefits to entering or remaining in the rental market.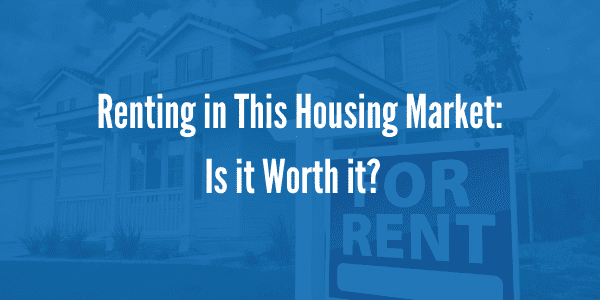 If you own investment property(ies) or are considering buying a rental property, with the recent ups and downs of the market, you have been on a wild ride in the past few years! We've been on that same rollercoaster with you and we're happy to put our expertise to work so that you can continue to benefit from your investment while reducing the strain on your time and cognitive load.
Seattle Housing Market in 2022
The Seattle area housing market continues to boom, fueled by attractive job opportunities, enticing big city amenities, and relative COVID-19 resilience. Low real estate inventory in Seattle creates attractive opportunities for investors and renters alike in the surrounding area, with neighboring suburbs seeing increases in property values of more than 20% in 2021 according to a Redfin report. That said, Seattle recently appeared among the top 5 hottest housing markets in the nation, as highlighted by the Seattle Times. Even if Seattle falls a few places on the hot list nationally, the market growth in Seattle specifically is forecasted to continue to remain at least one standard deviation above the national mean, according to PwC and The Urban Land Institute's Emerging Trends Real Estate 2021 report.
Rental Homes in Washington State
The Economic and Revenue Forecast Council reported record growth in home prices in Seattle in July 2021. According to Mashvisor, Seattle Housing's 2021 year-over-year gains were and continue to be about 7 percent. This growth is projected to continue into 2022. Though homes are still receiving multiple offers above asking price and competition remains significant, historically low inventory continues to keep pressure on rent, with rent quickly approaching its pre-pandemic level.
Multi-Family Rental in Greater Seattle
Multi-family properties such as apartment buildings, condominiums, and duplexes are increasingly attractive investments in the greater Seattle area. Seattle, uniquely, is an area with an over 50% renter-occupancy. The demand for multi-family properties is robust, with property values of multi-family homes increasing over twenty percent in surrounding Seattle Counties in 2021. This is a significant jump in comparison to the 10% national average RIO for rental properties. Renters are plentiful, and rental vacancies continue to be almost non-existent.
Rental Trends in Washington State
Rental Trends in Washington State include the following:
Increasing demand in the area surrounding Seattle continues to fuel demand in the surrounding counties
Housing prices reached a median of $784,000 in October 2021 according to Redfin.
Median rent for 2021 falls around $2200 for a Median space of less than 700 square feet.
Buying Trends in Washington State
According to a Redfin report, property in Seattle currently remains on the market for less than seven days and sells with multiple offers, over asking price, often with specific contingencies waived. That said, out-county or area adjacent properties such as those between Seattle and Tacoma see property priced more attractively and selling slightly less competitively, though they also benefit from Greater Seattle's steady market gains.
Landlord Trends in Washington State
Many landlords that held a one-off property in Washington State have sold them due to enticing housing prices and a moratorium on evictions throughout 2020 and into 2021. Continued high demand expedited the listing and selling process. We are therefore seeing an increasing percentage of property management clients who own multi-family dwelling units.
Is the Seattle Housing Market Going to Crash?
We are often asked if and when the Seattle Housing Market is going to crash. If by crash, you mean accelerate less quickly, then perhaps. However, we all know no one sits at the top forever. Property values in Seattle and throughout Washington are continuing to increase heartily and at a rate that outperforms most comparable cities throughout the nation. Especially given Seattle's relatively robust economic recovery following COVID-19, and attractive city amenities, the Seattle housing market is projected to continue to see increased property values into 2022.
Renting Your Properties in The Greater Seattle Area
Landlords, both in the Seattle area and nationally, face unique and quickly evolving challenges in 2022. Our team at Powell Property Management is well-equipped to help you manage the day-to-day issues that arise from rentals and protect your investments for the long run. Let us handle the marketing, tenant vetting, payment collection, and maintenance for your properties and protect your most valuable asset: your time.
Contact us today to learn how we can help you make the most of your real estate investment in the Seattle area rental market.
Sources
"Emerging Trends in Real Estate: United States and Canada 2021." Urban Land Institute and PwC consulting. Accessed online at https://knowledge.uli.org/-/media/files/emerging-trends/2021/emerging-trends-in-real-estate-united-states-and-canada-2021---final.pdf
"Here's One More Sign of Cooling in Seattle's Hot Housing Market" Seattle Times, by Heidi Groover November 1, 2021. Accessed online at https://www.seattletimes.com/business/real-estate/heres-one-more-sign-of-cooling-in-seattles-hot-housing-market/
"Report: Seattle Rents Rebound Close to Pre Pandemic Prices; Home Inventory Begins to Increase." August 27, 2021 By Callie Craighead. Accessed online at https://www.seattlepi.com/realestate/article/seattle-rent-increasing-to-pre-pandemic-prices-16414419.php
"Seattle Housing Market" Accessed online at https://www.redfin.com/city/16163/WA/Seattle/housing-market
SEATTLE HOUSING MARKET FORECAST FOR 2021." For Mashvisor, by Sylvia Shalhout October 9, 2020. Accessed online at https://www.mashvisor.com/blog/seattle-housing-market-forecast-2021
"Washington State Economic and Revenue Forecast September 2021." Washington State Economic and Revenue Forecast Council. Accessed online at https://erfc.wa.gov/publications/quarterly-updates