If you've noticed your rental property offers competitive amenities below market price, it is time to raise your rent. Raising the rent is often part of being a good steward of your investment, even if the thought is uncomfortable for some landlords. We're so glad that you're doing your research so that you can design your rent increase for optimal results and we're happy to use our expertise to help.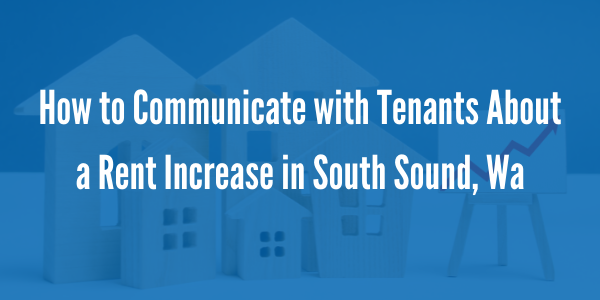 At Powell Property Management, we have been trusted property managers in South Sound, Wa area for more than fifty years. We understand how emotionally charged rent conversations can be and we want to make sure you arm yourself with facts and best practices to set yourself up for success. If you're exhausted, overwhelmed, or stretched too thin, while managing your rental properties in South Sound, we'd love to take these troubles off your plate.
When Do I Increase the Rent?
Increasing rent is part of keeping your investment profitable. The market determines rent prices. A robust rental market will drive up your rental rates. Your operating expenses, including taxes and insurance, change over time and may lead to rent increases.
When you have decided to increase rent, ensure that the new rate goes into effect at the end of the lease. You cannot raise rent before the term of the old lease is up.
How Much to Charge for Rent?
In the Sound Sound neighborhoods, our booming rental market exempts us from more generic advice. We've explored how much to charge for rent in-depth in our blog here. Check it out and set your rent right.
Rent Increases and Legislation
Legislation passed in October 2021 in the city of Seattle has changed the rules regarding rent increases within city limits. Though landlords in Seattle can raise rent by any amount they want, if the rent increase is more than ten percent, a landlord is required to pay about three months' rent to low-income tenants who move as a result. Additionally, the new rules require landlords to provide tenants with six months' notice before a rent increase takes effect.
Check your local regulations to find relevant laws and timelines. Be aware that some COVID-19-specific ordinances and resources may still be at play, so be sure that you have the most current information possible.
How to Write a Rent Increase Letter?
It is essential to notify tenants of the planned rent increase in writing. Be sure to send your rental increase notices by certified mail in order to provide proof of receipt for your records. There's no reason to toil over a perfect letter. There are many free online templates that you can download to ensure you have a sound document quickly.
If you are drafting your rent increase notice, use simple, clear language and avoid jargon. Be sure to include the following parts in your rent increase notice:
Date of Letter
Tenant's Name
Property Address
Landlord's Name
Landlord's Contact Information
Current Rent
Amount of Rent Increase
Due Date for First Updated Rent Payment
Many landlords also include a returnable form which provides a choice to either sign a new lease or vacate.
How Do I Increase Rent and Keep Tenants?
You can raise the rent and retain your tenants if you do so thoughtfully. Here are four tips to maximize tenant retention when raising rent:
Avoid a sharp hike. A steep rent increase that drives too many tenants away can be very bad for your bottom line. Avoid low occupancy rates by raising your rent in line with your local market. If you find that your rent is significantly below the market rate, consider raising your rent incrementally, not all at once. Outside of unusual circumstances and markets, we recommend a rent increase of above five percent.


Communicate clearly. Be sure to deliver clear written notice about the rent increase. Each municipality enforces a different window of how much notice you must provide to a tenant before a rent increase. Ensure that your tenant has ample notice as outlined in your local laws.


Make it easy to pay. Consider online rent payment platforms to may paying rent as easy as any other bill. There are several good ways to accept digital rent payments, and we've explored them in detail here.


Keep your property competitive. Happy tenants stay. Keep the property in working order. Respond to tenant concerns attentively.
Can a Tenant Refuse a Rent Increase?
A tenant is obligated to pay whatever rent you agreed upon for the duration of their lease. A landlord cannot raise the rent in the middle of a lease. However, a landlord may increase the rent when the current lease expires. When it's time to sign a new lease, your tenant can vacate the premises or accept the new rate.
Partner with a Property Management Company and Let Us Handle It
Avoid the uncomfortable conversations about rent increases and other landlord tasks that you dread. Partner with a property manager and claim back your valuable free time and attention. At Powell Property Management we provide full-service property management services.
You can rest assured that your tenants will benefit from our professionalism, leaving you to re-invest your most valuable resource, yourself. If you're in Burien, Normandy Park, Des Moines or surrounding cities, we'd love to talk to you about a potential partnership. Reach out online or give us a call today at 206.824.3733!