It's been an interesting year in the Seattle housing market - rental prices have fluctuated while the demand for single-family homes has increased.
However, now that things are getting back to somewhat like normal, conditions may be set to change yet again. Here's a look at the top 5 rental trends in Seattle for 2021.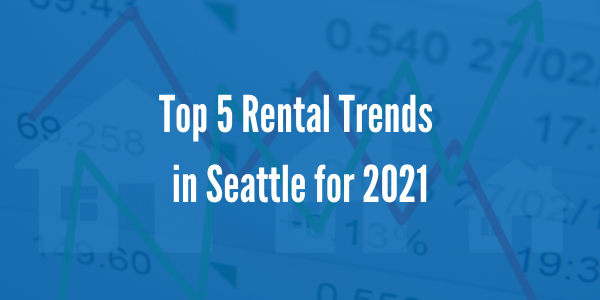 Varied Seattle Rental Prices
Are rent prices going up in Seattle? The average rental price overall in Seattle has gone up, but this trend varies depending on the type of unit. Seattle's average rental price is around $1,900, but it's notably higher for single-family homes. In March 2021, the median rent for a single-family home in the greater Seattle area was $2,811, according to a report by CoreLogic.The increased price is being driven by two factors: demand for larger space and a frenzied Seattle real estate market. Both are causing inventory shortages.
Tenants Want More Space
After a year of working from home, many tenants are looking for larger spaces to live and work. Numerous people have discovered that living and working in a one-bedroom apartment quickly becomes cramped. As more employers are allowing work-from-home arrangements, tenants are looking for places where they can more easily blend their professional and personal lives. A pet-friendly space is an added bonus for renters as both pet ownership and working remotely are trends that are here to stay.
More People will Move
A national survey found that 23 million people plan to move, thanks to work from home flexibility afforded by many employers. With the ability to work from anywhere, well-qualified tenants are more mobile than ever. Many renters may avoid higher Seattle rent prices, instead of getting more for their money in cities like Tacoma or Olympia.
While rent prices in these cities have increased over the past year, they still remain lower than Seattle itself. The average rent in both Tacoma and Olympia is around $1,450, and, thanks to tax breaks and increased demand for affordable housing, more multi-family developments are advancing.
Landlords are Choosing to Sell
Many landlords are selling their Seattle investment properties. There are a few factors playing into this trend. First, the current real estate market means owners can get top dollar when they sell properties, as Seattle home prices are higher than ever. The median asking price for a single-family home in Seattle continues to increase from prior years, and sales prices continue to increase each month, as they have across the entire country.
Combined with a hot real estate market, Seattle's eviction moratorium is prompting some smaller landlords to sell. With various tenants not paying rent, and landlords receiving no income for several months because of it, smaller investors just can't make the numbers work. Many are selling their properties to get a good return on their investment and to remove liability from their portfolio. One Seattle property manager says half of their clients sold off rental homes in 2020.
Limited Vacancies
Washington state, and Seattle specifically, have traditionally had very low vacancy rates for rental units, but the pandemic drove that number even lower. Low vacancy rates mean there's an even higher demand for rental units. Savvy investors who want to take advantage of the demand should act now to list properties for rent in Seattle.
Is the Seattle Housing Market Going to Crash?
It remains to be seen what will happen with Seattle's real estate trends. Although rental prices have been steadily rising, today's prices are not the most expensive Seattle has seen. That came in the early to mid-2000s when rent prices were 5-7% higher than they are now. With Seattle's eviction moratorium scheduled to end on September 30th, it's worth it for landlords to wait out the current trend instead of selling their rental property.

Renting Your Properties in Seattle
It's an interesting time to be a landlord - there's more to keep track of than ever before to ensure your investments stay sound. Our team at Powell Property Management is well-equipped to help you manage the day-to-day and protect your investment over a long-term horizon. Whether you have apartments or single-family homes to rent, we can help. Let us handle the marketing, tenant vetting, payment collection, and maintenance for your properties.
Contact us today to learn how we can help you navigate the booming Seattle area rental market.
Related: Renting in This Housing Market: Is it Worth it?