For more than 100 years as South Sound property managers, Powell Property Management has watched more rental trends and demands rise and fall than most companies, but we're not stuck in the past. Smart features are an increasingly popular feature in rental properties. It's hard to keep up with the times, but making the effort is often profitable. Though smart features don't usually add to the resale value of your investment, offering in-demand features in the rental market maximizes your investment. More than 75% of renters recently surveyed would pay $20 a month more for certain smart home features.
Powell Property Management is committed to leadership within our Burien, WA communities as well as the community of landlords and renters. We are happy to provide resources that equip all landlords to succeed.
Our fan-favorite real estate formula cheat sheet is one of the resources available in our landlord resource library here.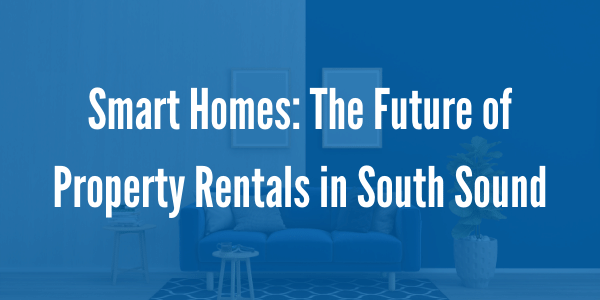 What is a Smart House?
You can make any home a smart home if you purchase smart devices. A smart home uses smart devices to control household functions. This means you can operate your devices no matter where you are. Most smart devices operate with wifi to communicate with the device that controls it, but many smart devices can also connect via BlueTooth if wifi isn't available or consistent. Smart devices can be controlled via a central hub on your tablet or smart device or with smart speakers such as Apple Suite, Google Dot, or Alexa. Adding a smart speaker that responds to voice commands makes every smart device in your home voice-activated.
Smart homes can attract savvy tenants. Most smart devices function manually as well, so they shouldn't intimidate tenants who are not interested in high-tech home devices.
Smart Home Essentials
A quick internet search with the intent to purchase the basics for a smart home could be overwhelming. There are more options than ever and more variety in each smart category. If you're interested in smart technology for your rental property, some features are sensible starts: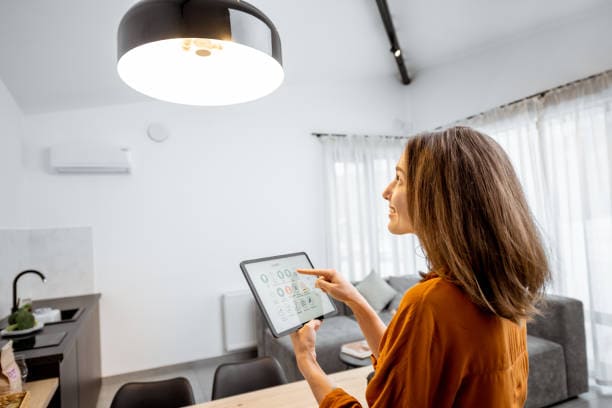 Lights
Smart lightbulbs work like regular light bulbs and can be operated at the switch or remotely. They are energy-efficient LEDs, and therefore last up to twenty years. Smart light bulbs are often a one-time investment. Remotely activate lights in vacant properties to keep the appearance of occupancy.
Thermostat
Smart thermostats are excellent additions to any home because they are both practical and convenient and a wifi thermostat is a very good idea for a rental property. Smart thermostats allow you to set and run sophisticated programs that heat and cool your home according to your personalized schedule. Keep your home cozy when you use it and save on energy costs when you are away. Controlling the thermostat with your smartphone has other advantages. Make sure your property is comfortable and ready to show and never worry about freezing pipes during an unexpected cold snap again. Best of all, smart thermostats are relatively inexpensive. A Nest or Honeywell smart thermostat costs about $160.
Sensors
Smart sensors protect your investment by quickly detecting a problem and alerting you right away. This enables you to respond to problems before they create more damage. Consider thermal sensors that alert you of a freeze, moisture sensors in potential leaky areas, and smart smoke/carbon monoxide detectors.
Locks
Smart locks allow you and your tenant to unlock your property with a smartphone. This allows you to remotely unlock your property so that trusted others can enter for tours or repairs. Smart locks can also be opened with a key, like any other lock.
Security
Smart security such as a doorbell camera or security camera monitoring your property's entrances allows remote viewing and provides many tenants an added peace of mind. There are very few reasons a landlord should have access to interior security footage to an occupied property.
Appliances
Almost any appliance you can dream up is available in a smart version. From vacuum cleaners to refrigerators, alarm clocks to microwaves, smart appliances allow you to conduct a symphony of chores from your couch.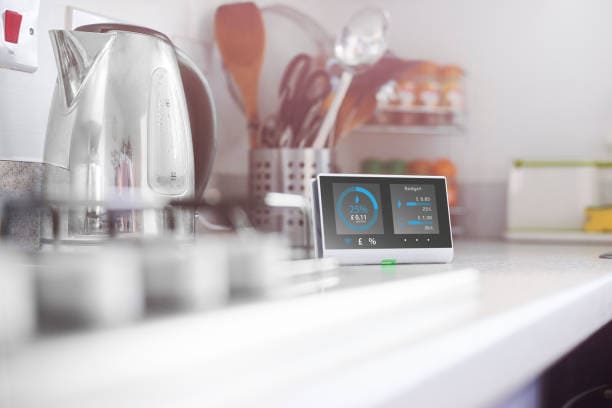 Smart Technology for Rental Properties
New landlords often feel challenged to sort through the features that will maximize their investment and attract good tenants and those that might not be the best use of their budget. We recommend smart devices such as thermostats, lights, locks, and security because they are relatively inexpensive and allow you to maintain your property remotely.
Many experienced landlords favor sturdy standbys rather than hot trends in a few key areas. Fancy, smart appliances like refrigerators and microwaves are relatively new and therefore more expensive at both your initial purchase and at every repair. Unless your market is very sophisticated, we advise against smart appliances in rental properties.
Powell Property Management has been a trusted steward of South Sound's real estate for more than a century. We would be honored to partner with you to maximize your real estate investment as well as the valuable asset of your time. Benefit from our expertise and experience the difference in working with Seattle's best property management company. We're looking forward to connecting with you.